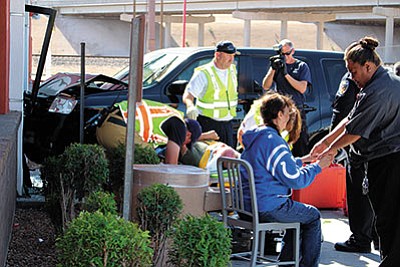 Firefighters and paramedics tend to one of two men who were injured at McDonald's Wednesday after a woman accidentally drove into the restaurant's entrance. To the right, a restaurant manager comforts the driver, a 69-year-old Indiana resident. (DOUG McMURDO/Miner)
Stories this photo appears in:

KINGMAN - No traffic charges will be filed against an Indiana woman who crashed her SUV into an entrance to McDonald's on Andy Devine Avenue Wednesday morning.
By Doug McMurdo
April 15, 2016