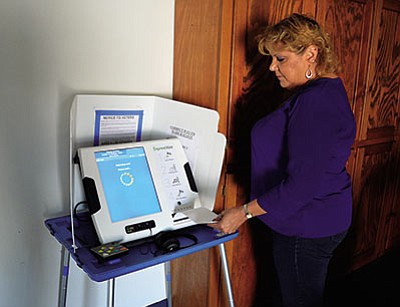 Mohave County Voter Registration Coordinator Lisa McKee tests an express voting machine, a ballot marking machine that assists visually impaired voters. A person can increase or decrease the size of the on-screen text, listen to a description of candidates or ballot initiatives with headphones and use a handheld braille pad to make selections. (AARON RICCA/Miner)
Stories this photo appears in:

Independent and non-partisan permanent early voters need to contact the Mohave County Recorder's Office if they haven't received their early ballot in the mail yet.