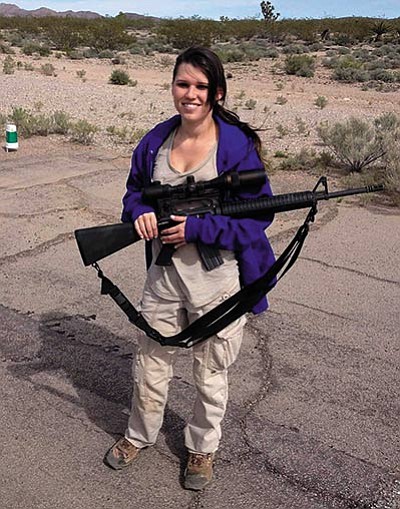 Local Ashlee Prentice landed the top female role of Sara in "Protocol 734," an action film now being shot in the area. Here, she cradles her weapon waiting for filming to begin in Searchlight, Nev. (NEAL HICKERSON/Courtesy)
Stories this photo appears in:
But Kingmanite still has a backup plan
KINGMAN - A few weeks ago, Ashlee Prentice was working in SHOTS, home to SOS Ammo and the family business, when a couple of customers came in to buy exploding targets. The 23-year-old soon-to-be nursing student didn't know it, but one of the men was movie producer and director Richard Benter.
By Doug McMurdo
March 2, 2016