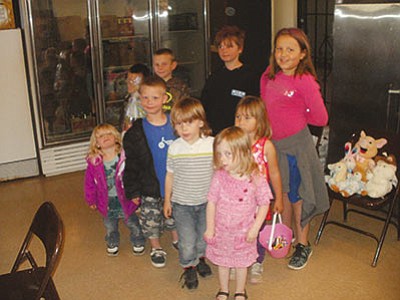 Chloride VFW Auxiliary No. 2190 held an Easter Egg Hunt for local children on March 26 at Post 2190. Eleven children attended, ate pizza, punch and cupcakes for lunch, listened to the Easter Bible story, made a cross to hang on their bedroom walls, and then hunted over 100 eggs filled with candies. The children also went home with Frisbees, balls, stuffed animals, pencils and/or bubbles from (and a big thank you) the Kingman Walmart. And thank you to Charlie Bogue, VFW Comrade, for the prize baskets given to the gold egg winners!
Stories this photo appears in:

Cactus Cuties Lady Bikers Chapter: Interested in joining other lady motorcyclists with common interests of motorcycles and riding?