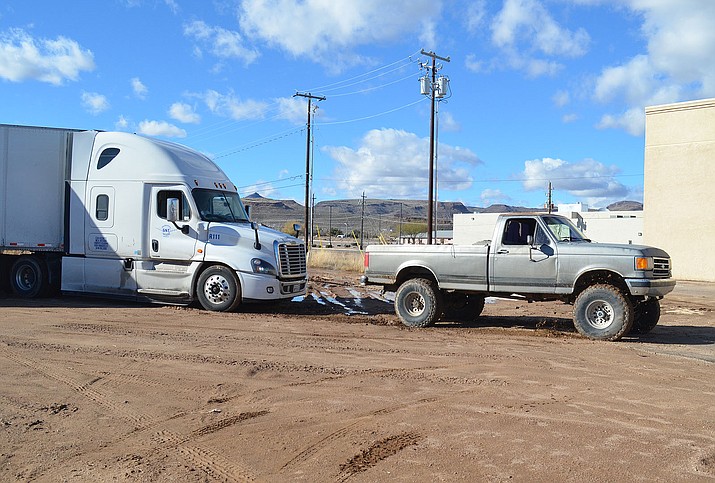 No one was safe from this weekend's soggy downpour. Kingman resident Jim Tarantino used his Ford pickup to pull Sixto Cortez of Fontana, California and his big rig out of a muddy rut Saturday afternoon. The semi was stuck in deep mud off of Chicago Avenue, conveniently close to the Kingman Daily Miner office. Cortez was driving from Florida to San Francisco and making a delivery to a local store when he got mixed up in traffic and had to turn around. He tried to go around the USA Pawn and Jewelry and House of Gains Fitness Center building, but bogged down in the muck. Tarantino happened to be passing by and lent a helping hand – and a lot of horsepower. He attached a chain to the rig and after about 15 minutes of kicking up a storm of muddy chunks, freed the trucker and his cargo. Tarantino hit the road before making a comment, but Cortez was grateful to be on his way. "Thanks to this guy, I'm safe," said Cortez.
Stories this photo appears in:

The final Pacific storm system brought more rain and snow to the region Monday, along with strong winds, and there's a chance of lingering showers this afternoon, according to the National Weather Service.