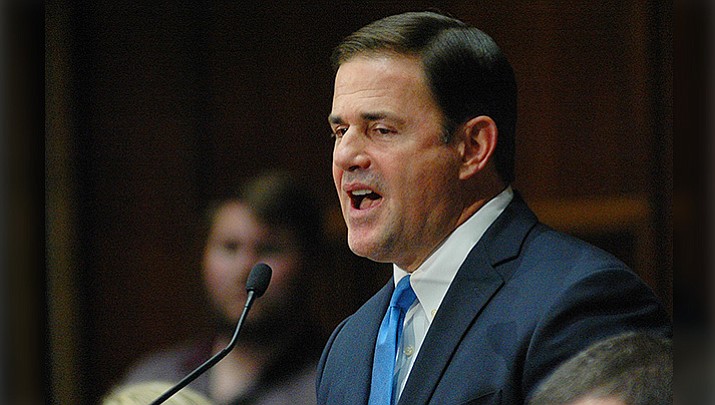 Arizona Gov. Doug Ducey
Stories this photo appears in:

Arizonans who don't take pretty much any job after being out of work for at least four weeks will lose their unemployment benefits.

Package teachers are demanding with walkout not being addressed
Republican legislative leaders were closing in on a deal late Thursday to give Gov. Doug Ducey the pay hike he wants for teachers, some changes to the $10.1 billion budget sought by GOP lawmakers – but not the package being demanded by tens of thousands of educators who walked off the job.

In the latest sign that Arizona Gov. Doug Ducey's wide-ranging school safety proposal faces major issues in the Legislature, a Republican senator sponsoring the bill has pulled it for revisions.
By BOB CHRISTIE, Associated Press
April 15, 2018

Gov. Doug Ducey is working to cobble together the votes for his comprehensive school safety plan.

Gov. Doug Ducey is defending his decision not to include universal background checks in his new school safety program.
By Howard Fischer, Capitol Media Services
March 22, 2018

Gov. Doug Ducey's administration wants the next state budget to include $2 million to replace dilapidated housing

Gov. Doug Ducey's third annual Governor's Bookmark Design Contest begins Wednesday

Arizona Gov. Doug Ducey is set to deliver his fourth state of the state address and outline his policy proposals for the 2018 legislative session.