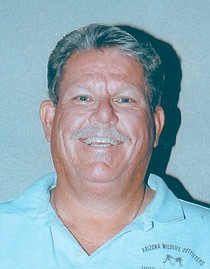 Don is a native Arizona resident who has spent his entire adult life (except for 2 years 9 months and 13 days in Uncle Sam's Army) pursuing his passion of enjoying the great outdoors of Arizona.
Don worked as a law enforcement officer for over 15-years after his stint in the U.S. Army. After an on-the-job injury forced his retirement from the law enforcement field, Don decided to start a business to help others who enjoyed the great outdoors as much as he did.
Working with his friend Larry Sallee, Don started Arizona Wildlife Outfitters in 1987 in Kingman.
Recent Stories
The first of two major local fishing tournaments will be held May 5-6 at South Cove on Lake Mead.

I guess I am not really surprised, but at last Monday's Board of Supervisors meeting, the proposal to change the seal of Mohave County from an elk to a desert bighorn sheep didn't even make it to a vote.

The Kingman Bass Club held its April tournament on the Colorado River on the Parker Strip and eight teams entered the one-day event.
If you are one of the many sportsmen in the state that failed to draw an elk or antelope tag in the spring draw, here is some good news.

Hunting wild turkeys is a passion of mine.
Judging by the light turnout of local sportsmen to the Arizona Game and Fish Department's hunt recommendation meeting last Thursday, where just six persons attended, one would think that everyone either agrees with the recommendations being made by the department or that the time of the open house wasn't good for most people.

Professional bass angler Donnie Scroggins had a premonition of sorts as he drove to Bass Pro Shops in Las Vegas to pick up his boat.
If you're interested in seeing what the Arizona Game & Fish Department is proposing to the Commission as far as tags for this fall are concerned, then clear your calendar for Thursday afternoon.

Last week, I wrote a story about how elk made their way into Mohave County.
The other day I noticed a post from Mohave County Supervisor Jean Bishop where she was standing in front of the seal of Mohave County.