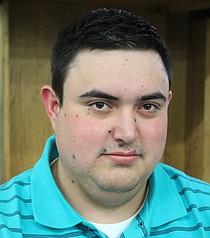 928-753-6397 Extension: 5223

Twitter
Recent Stories
Employees of a Kingman Motel 6 stepped up in a major way when one of their guests needed an emergency pet-sitter.

A long time tradition is making its way to Kingman, but not every resident is feeling festive.

The Beale Street Theater is asking for volunteers to help with the revitalization and clean-up of their new venue.

Pack up your pooches. Today is Pet Sitter International's Take Your Dog To Work Day.

The Golf Course Management Agreement for Kingman was just one item discussed at a city council meeting that looked to the future.
Kingman has outgrown its current city offices, and council members are looking to remedy the need for more space.

The City Council is taking a step toward lighting the fuse for this year's July 4 firework celebration.
Calling the Trash Brigade
Wildcat dumping has plagued the Golden Valley desert for several years, and the mounds of trash continue to grow despite the valiant efforts of a local volunteer trash brigade.
Members of both the KAA and City Council feel that the workshops are indeed providing progress and understanding between the two groups. "I feel like we're making progress. I appreciate everyone putting aside their differences to help out our city," Mayor Monica Gates said.
The Free Masons Fraternity began centuries ago with original members being descendants of stonemasons and craftsmen.