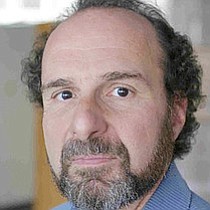 Howard Fischer is a veteran journalist who has reported on state government and legal affairs in
Arizona since 1982, the last 25 for Capitol Media Services which he founded in 1991. Fischer's news reports appear in daily and weekly newspapers around the state, and are heard on Arizona Public Radio.
Recent Stories

When Rep. Bob Thorpe ran for re-election in November, the areas in around the Northern Arizona University campus were among his lowest vote tallies.

Gov. Doug Ducey promised today to put more money into public education than legally required.

Saying he fears harm to Arizonans, Gov. Doug Ducey on Friday urged Congress to not rush repeal of the Affordable Care Act.

State utility regulators swore in a new member Tuesday and elected a new chairman amid controversies that could mean open warfare on the panel.

Gov. Doug Ducey is threatening legal action if President Obama sets aside 1.7 million acres of public lands in Arizona for a new Greater Grand Canyon Heritage National Monument.

Medical marijuana users cannot be convicted of driving while under the influence of the drug absent proof that they were actually impaired, the state Court of Appeals ruled Thursday.

A federal judge has rebuffed efforts by the Ducey administration to put off until Donald Trump takes office a challenge to its policy of denying to a driver's licenses to some the Obama administration has said can remain here.

Saying the American flag is a special symbol, a Republican lawmaker wants to make it automatically a felony to steal one that is on display.

A special task force is recommending higher teacher pay, more money for schools with a high number of students in poverty and a more "predictable and equitable'' funding system among schools. And no ideas on how to finance any of that.

But that doesn't mean he's free and clear of other election-related allegations of impropriety
Former Attorney General Tom Horne won't face criminal charges in connection with his alleged use of state employees in his unsuccessful 2014 re-election campaign.