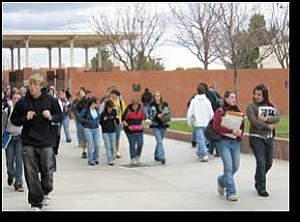 Originally Published: December 20, 2005 4 a.m.
KINGMAN ­ As the population of Kingman continues to grow, so too do the numbers of students enrolling in the two school districts ­ Kingman Unified School District and Kingman Academy of Learning.
"Our enrollment figures for 2004-2005 accelerated," said Betsy Parker, assistant superintendent of the KUSD. "Before that, growth was fairly steady.
"I think we're going to continue along the 2004-2005 pace if the housing market continues as it is."
KUSD enrollment for 2003-2004 was 7,298. As of Oct. 6, district enrollment was 7,796, an increase of nearly 500 children, Parker said. Enrollment numbers rose between 100-200 children in the years preceding 2004-2005, Parker said.
The KUSD was created July 1, 2001, when the Kingman Elementary and Mohave Union High school districts merged.
Combined enrollment for the two districts in 1996 was 7,231. In 2000, enrollment dropped to 6,948.
Parker attributes that decline to the startup in 1995-96 of the KAOL, which "absorbed" many children that otherwise would have enrolled in a KUSD school.
Growth projections, based on research by the KUSD Information Technology Department, indicate enrollment will swell to about 8,100 children by May 2006 and to nearly 9,000 by June 2007.
District officials are re-configuring buildings (see Sunday's Miner) to keep up with the growth.
Buildings must be operating at maximum capacity before any new construction is authorized and funded by the state School Facilities Board.
Other contributing factors being examined in planning by district officials include significant commercial and residential construction in the community. Rhodes Homes has developed a master plan for Golden Valley that would add 24,000 to 27,000 new homes there in the future, IT Department research indicates.
Four other master-plan developments are on the drawing boards for the local area in the next two to five years.
KAOL offered instruction for grades K-6 when it first opened. It added a seventh grade in 1996 and eighth grade the following year.
The academy continued to expand one grade per year, with ninth grade starting up in 2001, 10th in 2002, 11th in 2003 and 12th in 2004 to complete its high school.
There were 232 pupils enrolled in the KAOL in its first year of 1995-96. Enrollment grew to 850 in 2000, said Susan Chan, district administrator.
As of Nov. 29, KAOL enrollment stood at 1,356 children.
"Growth has been faster than we ever expected, but it is controlled," Chan said.
"Growth will slow down because we have reached 12th grade and we will not be adding any more classrooms in the lower grades, so there will not be substantial growth in the next two years."
"In five years, I imagine our enrollment will be stable," Chan said.
"Our high school will grow to its capacity between 450 and 500 students, so our total enrollment would be about 1,500.
"I'm basing those figures on what we want our school capacities to be.
"We don't want any of the others to be over 400-450 students, and all of our schools, with the exception of the high school, are now at capacity."