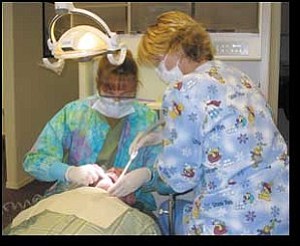 Originally Published: December 22, 2005 4 a.m.
KINGMAN ­ The time necessary to get an appointment as a new patient with a local doctor or dentist normally is two weeks or longer, but there are exceptions.
"We try to get new patients in within 24 hours for something urgent," said Ken Blocher, a podiatrist. "If it's routine, we normally can get them in 2-3 days."
Blocher considers his patient load "average." He is exploring the possibility of taking an associate into his practice but has not made a firm decision.
More primary care physicians will be needed here in the future. But what Blocher said he feels is needed now is a rheumatologist to see patients with different types of arthritis.
Dr. Hesham Sahawneh, who has a general surgery practice, said new patients can usually get an appointment with him in 2-3 weeks.
"I'm extending my hours a little bit," Sahawneh said. "I'm also squeezing in some patients, especially during the holidays when they've met their deductibles for the year."
He considers his patient load a little more than average. To keep up with community growth, he has begun looking for an associate to join him in his practice, Sahawneh said.
Dr. Ilan Govan is another physician looking for associates to join in his internal medicine practice.
Govan said he tries to see new patients within a month if they make an appointment for a routine visit. The patient may only have to wait a week if his or her condition is something semi-urgent.
"Regrettably, I can only do so much in one day," Govan said.
"We're going to need 7-10 more doctors here in the next 10 years. For every 3,000 people, there needs to be one primary care physician.
"I don't expect to see many more physicians here because the national demand for them is high now. Being in a rural area hurts, and a lot of physicians prefer to find jobs in cities, so they don't come to a rural area."
The need for dentists is just as great. "We've tried to recruit new dentists in the community and we have a new one in our practice," Charles Lucero said. "His name is Jim Ransdell and he joined us about three months ago."
It presently takes about two weeks for a new patient to get an appointment with Lucero.
One recommendation he has heard is that one dentist is needed for every 3,500 people, he said.
"The way our community has grown in the past year and with expectations for the next 10 years, I would hope to see at least five new dentists here in the next 5-10 years," Lucero said. "The numbers I'm talking about are recommended by most dental business consultants."
Dentist Regina Cobb said it may take up to a month for a new patient seeking routine care to get an appointment with her. But someone with pain often can be seen within 24 hours.
She had an associate in her practice for a time and is currently looking for another, Cobb said.
"My patient load is probably heavier than it should be," she said. "If someone needs a root canal that takes an hour and I don't like them waiting longer than two weeks, and we're over that now."
Jason Lowry is another Kingman dentist who said he is "keeping up" with his patient load. He may add an associate into his practice in the next two years if the community continues to grow.
"What I was always taught is that one dentist can accommodate 2,500 active patients comfortably," Lowry said. "Do the math with how many people are here now and how many dentists there are and I think we're headed toward a shortage. Some dentists are more established than others and are maxed out, so they send some patients to me since I'm the new guy in town and working a few more hours as I build my practice."
The three dentists were asked about services needed such as extractions and orthodontics.
Cobb said Joe Abdelnour is an oral surgeon from Bullhead City that comes to Kingman once a week and can do extractions. He works out of Lowry's office when in town.
"He is the only specialist we have besides Dr. (Carl) Bullen, who is an orthodontist practicing here," Cobb said. "Patients don't like long travel, preferring to stay in town to see a specialist."
Lowry said Abdelnour does extractions in his office Fridays.
"When you move to a smaller town, you understand you must branch out and do some things that in bigger cities dentists would refer to specialists," Lowry said. "We do some root canals here, perhaps 80 percent of those needed, with me, sending more complex cases to a specialist in Las Vegas."
Lucero said he expects to see more specialists practicing in Kingman in the next 5-10 years.