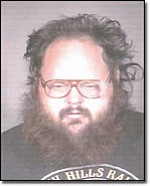 Originally Published: June 24, 2005 5 a.m.
KINGMAN ­ Mohave County Sheriff's detectives have arrested Robert Ronald Benjamin, 43, of Golden Valley on a felony warrant charging him with two counts of homicide.
About 6:50 p.m. Wednesday, detectives were contacted by Hoover Dam Police. They reported detaining Benjamin at the dam as he attempted to cross in a southbound vehicle, MCSO spokeswoman Trish Carter said.
Detectives drove to the dam, took Benjamin into custody and returned him to Kingman to be booked into Mohave County Jail.
Benjamin had been sought since Andrea Lynn Eklund, 34, and Robert Al Reichenbacker, 44, both of Kingman were found shot to death early Monday morning in a residence in the 4500 block of Marilyn Drive.
Witnesses told investigators they had seen Benjamin at the residence prior to a 1:47 a.m. call of gunshots that sent deputies and Kingman Police to the scene.
Kingman Justice Court had issued the warrant for Benjamin charging him with two counts of first-degree murder.