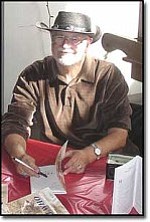 Originally Published: May 6, 2005 5 a.m.
I looked out my window on Mother's Day and imagined a lady with an apple pie walking up the driveway. It reminded me of a time when Mom, apple pie and saluting the flag were the mainstays of life in America.
Now I see New York City schools canceled Mother's Day celebrations in public schools. Some children have two dads or two mothers and those children might be embarrassed by a "normal" Mother's Day celebration.
I heard just last week that Madonna is a mother with a young child to raise.
She has turned off the television and hid all her music videos. It seems that the singer that made underwear a stage costume does not want her child to see all that stuff. The MTV styles Madonna made popular are not fit for her "youngen" to see.
Motherhood does make changes in the lifestyle of most people.
I have to use my imagination to see a traditional Mother's Day for two reasons. First, the antics of people like Madonna and the likes of the NYC schools. Second, because all the mothers in my family are younger than me now.
Granny died last fall in her mid-90s, leaving no mothers alive in the older generation. The other "mothers" include my wife, sisters, children, grandchildren and nieces.
Everyone had a mother, and she was important in shaping life for each of us.
Mother's Day brings back cherished memories of my own mother. Apple pie was not her best recipe. Blackberry cobbler was a hit. I would go along the creek in Oregon and pick the berries for her. The last one she made became a family story because she turned it upside down on the open oven door.
They told me that after I had eaten most of it.
I grew up during the Dust Bowl days of Kansas and in the migrant camps of Oregon and Washington. Mother spent more time working in the fields than in the kitchen. All that food and fresh fruit on the table in Oregon was a great treat for former Kansans.
She continued to work all her life, mostly as an elementary school teacher. I never experienced a "stay-at-home" mother, but she was always there to see that my needs were met.
Mothers are here to stay even in a high-tech world that adds test-tube babies, surrogate mothers and claims to be on the way to coning people.
Imagine the task of the couple in Phoenix that hired a surrogate mother and got a basketball team all at once. That surrogate mother seemed relieved that the mother who provided the eggs would also have to change the diapers.
On the lighter side, my wife sometimes reminds me that she is not my mother. That is a good thing for husbands to remember.
My dad never seemed to get all his ducks in a row when it came to remembering my mother. He bought her a camera for her birthday and never let her use it. He often did the same thing at Christmas and on Mother's Day. Mother never did forget the camera bit and made sure Dad never forgot it either.
Guys, remember the mother of your children on Mother's Day, but remember that she raised your children and does not need the task of raising you, too.
A mother's work is never done, even when the children are "raised" and leave the nest. They will remain children forever in the eyes of the mother. She will continue to look after them from a distance and feel every hurt with them. Grown children do sometimes forget their mother, but she never forgets them.
Kingman has an unusual Mother's Day tradition with the annual horse races on that day. Some mothers in Kingman find it a kick to go to the races on Mother's Day. I would guess the pioneer mothers of another era were more excited about the races than mothers of today. It would have been exciting to get out of the ranch kitchen and meet some neighbors on race day.
A good dinner in a fancy place might be more appreciated by some modern mothers.
Dad, you and the kids better ask her and listen carefully and make sure you please her. It will pay great dividends over the year.
Granny always acted surprised when she got a gift from her children. "You did not need to do that," she always said. I never believed for a minute that she meant that. The big smile on her face gave her away.
From my window, I will always be looking for that special mother to come up the driveway again. And I will appreciate all the special women in my life ­ wife, mothers, daughters and granddaughters.
May Mother's Day and mother be special at your house.
Marvin Robertson writes a weekly column for the Miner.