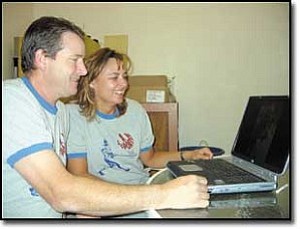 Originally Published: November 23, 2005 4 a.m.
KINGMAN ­ Regina Cobb's second trip to Hanoi, Vietnam, as a volunteer on behalf of Resources Exchange International was better than her first one a year ago.
"It was more satisfying because I built relationships last year and expanded on them this year," she said.
Cobb, a Kingman dentist, made her recent trip between Sept. 16 and Oct. 3.
The annual junket was about six weeks earlier than her 2004 visit of Oct. 30-Nov. 14.
She was part of a 14-person team of family practitioners that annually travel to Vietnam, Guatemala and other countries in need of medical care and other assistance.
REI, a Christian organization based in Colorado Springs, also sends pediatric, surgery and water management teams to those countries, Cobb said.
Team members pay their own expenses.
Cobb was the lone dentist on her team, which included a dental hygienist, five doctors, two nurses and a social worker. Four spouses of team members went along.
Team members were from Arizona, Minnesota, Washington, Illinois, Colorado and New Mexico.
"The rainy season was winding down the first two days we were there," Cobb said.
"It's a time of a lot of motorbike accidents with riders that don't wear helmets.
"There was a lot of suturing of chins, heads and cheeks the first couple of days, and not much dentistry."
There also was a scaffolding accident that left a man with six broken bones on the left side of his face.
Cobb worked with two doctors to put the victim's facial bones back in place.
She performed virtually any surgery from the neck up on patients.
She excised tumors normally done by a dermatologist in the United States in addition to operations usually performed by an oral maxi facial surgeon.
Cobb spent her first week at Bach Mei Hospital, one of the two hospitals at which she worked last year. Hospital administrators were so impressed with her previous work that they sponsored the visas for REI team members, she said.
The latter part of the trip was spent working in smaller district hospitals in rural farming communities. She also did some public relations campaigning that may enable team members to visit other hospitals in the future they could not get to this year.
A typical workday ran from 7 a.m. to 5 p.m. five days a week. There was no lack of patients.
"Mornings were pretty heavy," she said. "I would see 20 patients some mornings and 40-50 on others.
"I normally was in surgery all afternoon with two or three per day."
Vietnamese dentists work for the government during the daytime. They are permitted to practice for themselves at night or on weekends.
Cobb got to visit Hanoi Prison, which is largely a museum for tourists today. Arizona Sen. John McCain, a Navy pilot during the Vietnam War, was held in the prison as a prisoner of war after being shot down.
"They have a room in the prison with his uniform, picture and other items," Cobb said.
"There also were pictures of the POWs playing ping-pong that made it look like they were on a holiday."
The Vietnamese get no soft drinks, sweets or other items containing sugar.
"Their major dessert is fruit, such as papaya, kiwis and oranges," Cobb said. "There is not as much caries (tooth decay) among their people, and you rarely see anyone there that is overweight."
The Vietnamese people do cook their meats and fish in oils or fats and they consume egg rolls, which are fatty. But they seem to tolerate them without the health problems similar foods and the way in which they are prepared cause among Americans.
Dental supplies are lacking in Vietnam, so Cobb took that into account in packing for the trip. Each person on the team is allowed to carry two 70-pound suitcases into the country.
She estimated about half of one suitcase (35 pounds) contained her clothing and personal hygiene items while the rest of what she took was dental supplies that included paper products, latex gloves and anesthetics.
Cobb got some additional support for the trip in the form of $300 for supplies from the Kingman chapter of Soroptimist International. In addition, she carried root canal supplies donated by a root canal specialist in Tucson and a piece of electronic equipment for root canals donated by a Page dentist.
Cobb is hoping her husband, Mike, a member of the Kingman Unified School District Governing Board, will join her for her next trip to Vietnam planned next October.
"A past problem is that physicians and dentists go over there once to do a mission and there's no follow-up, so relationships are not cultivated," Cobb said. "At Bach Mei, they knew what I could do and where they wanted me.
"This year, I had an office I shared with the hygienist that contained a little refrigerator they kept stocked with water and fruit. The only thing was we were seldom in our office."