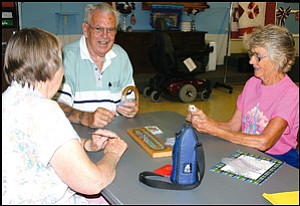 Originally Published: August 21, 2006 10:13 a.m.
EDITOR'S NOTE: This is the first in a series of stories on the Kathryn Heidenreich Adult Center.
KINGMAN - In 1972, officials with the city of Kingman and Mohave County came together and built the Kathryn Heidenreich Adult Center on land owned by the county on Airway Avenue.
The center now has four distinct entities - the Heidenreich Center, Chat-N-Chow, Foundation for Senior Living and Sarah's House. They will be explained in more detail in the next installment of this series.
Debera Daugherty is director of recreational programs at the Heidenreich Center. She has two part-time assistants with salaries of all three personnel funded by the Kingman Parks & Recreation Department.
"We provide activities and supervision for the center," said Parks and Recreation Department Director Darel Fruhwirth.
While many people refer to it as a senior center, it is an adult center for anyone 21 years of age or over, Daugherty said.
"The majority of our clientele is seniors," she said. "We offer them activities as well as resource and referral information.
"There's also companionship as seniors meet and greet one another and we try to do as much outreach as we can."