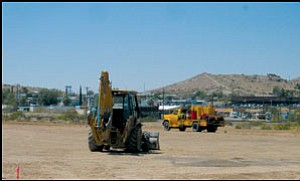 Originally Published: August 29, 2006 9 p.m.
KINGMAN - The city's construction of a new drainage detention facility is scheduled to be completed by mid-September, city officials said.
Mike Prior, project engineer for the city, said that the Louise Avenue Drainage Detention Facility was a response to the vast amount of drainage that occurs at the corner of Louise and Railroad. While there are two fair-sized pipes under the railroad to negate the rainfall collection, heavy rainstorms cause too much runoff to be controlled.
"… all this drainage flows through the pipes and gets diverted by the Fairgrounds and to the channel along I-40. And what happens is Fairgrounds is an inverted kind of street and it does not have the capacity to handle all this drainage. So, when there are major storms, all the homes along Fairground get some degree of flooding from this drainage," Prior said.
By building the retention facility, the city would be able meter out the amount of water that goes under the railroad to limit the amount of storm water damage to homes along the Fairgrounds, he said.
According to Prior, the project is 85 percent done and should be completed by Sept. 18. Work on the project began June 12 and initially should have been finished in August, but unforeseen complications slowed the process and required an extension, he said.
Paving, he said, is scheduled to begin today.
The construction, he said, mainly consisted of earthwork to remove the dirt and create the depression to retain the runoff flows, new curb and gutter along Railroad, paving along Railroad, a four-foot perimeter fence, and riprapping the locations where the flows are entering the detention ponds. Two pipes were also constructed to outlet the flow to the channel.
The project, totaling about $350,000, was paid for by funds from the Mohave County Flood Control Division. Mohave County collects these funds through property taxes, Prior said, and distributes them evenly between the three cities and the county.
The contract was put out to bid and awarded to Surface Contracting, Inc.
Prior said he has received many inquiries as to whether or not the retention ponds would resemble the one at Southern and Eastern, which is grassed and has become like a park to many of the residents who live around it. Since this site is located away from population, Prior said the site is likely to remain mostly a dirt pond for now.
There is a possibility that grass would be planned for the future if population in the area grows and the Parks and Recreation Department obtains more employees to maintain the area.
One of the concerns the city has about leaving it an earthen area is it being overgrown by weeds, Prior said. They are currently looking into what could be done and intend to try to stop any problems before they arise.
More like this story