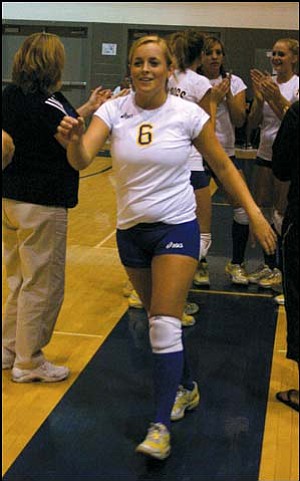 Originally Published: November 8, 2006 10:02 a.m.
KINGMAN - It's no surprise that of the 100-plus matches Blakely Phillips was a part of in her four years of Kingman High volleyball, her favorite one had the most riding on it.
Pointing to last year's three-game comeback win in the first round of the 5A-II state tournament against Marcos de Niza, Blakely described it as "the best game I've ever played," as she recorded 17 assists and seven kills, including the kill that won Game 2 for her team and sent the match into a third game.
Known for her competitive and aggressive nature, Phillips showed she could rise to the occasion on the volleyball court before captaining Kingman's ship.
But as her team struggled to win matches late in the year, Phillips had to harness her gung ho personality and take on new responsibilities to help the Bulldogs get back to state.
"Blakely sometimes is very blunt," KHS coach Amy West said. "Sometimes kids take her the wrong way because she has that fight in her that not all girls have, and it's been neat to see her respond to adversity and conflicts and handle them well. She grew a lot this year."
Blakely's mother, Christy Phillips, said her competitive approach to sports was apparent even in elementary school. Blakely was also a dedicated soccer player up until last year, but opted to focus on volleyball.
"I don't know, but I think maybe she wanted to dive into volleyball more to do better than her sisters (Ashley and Tristin)," Christy said.
Tristin and Blakely were teammates in 2005, a partnership Blakely said showed her how to be a leading Lady Bulldog.
"When she came to watch games, it made me kind of sad, but it was kind of fun leading my own team," Blakely said.
"I would always get mad, and she always calmed me down.
"She's more of a cheery competitor."
Without Tristin by her side, both mom and coach said Blakely found a way to relax herself so she could concentrate on helping her team.
Always the first to start a cheer during a time-out or lead a dance between games, Blakely's cheery disposition was still loaded with intensity, and never was more on display than as one of the team's hitters.
Primarily a setter her junior season, Phillips split that role with Katelyn Wilson and turned to hitting and serving to stay on the court.
"I like setting more than any other thing, but playing all around is better than going out," she said.
As a senior, Phillips played in every match and still led the team in assists (176).
She had a 90 percent serving accuracy, was second for the Bulldogs in digs (64) and fourth in kills (61), including a 15-kill match against Sandra Day O'Connor - a team high this year for a single match.
"At the beginning of the season seniors get the 'This is your final season' speech, and she took that very seriously," West said.
"She's not the one you'd expect to get 15 kills, but she kept calling for the ball that game."
It's just one more example of Phillips' fiery attitude that hasn't lost its flame. And it may not have to for a few more years, with plans to join the volleyball team at Eastern Arizona University next year.