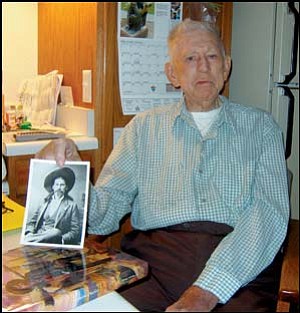 Originally Published: October 9, 2006 9 p.m.
KINGMAN - You may have visited or at least driven by Arizona Charlie's Casino in Las Vegas, but do you know anything about the man after whom it was named?
Kingman resident Charles Meadows is the great nephew of Charlie Meadows, who was born in Visalia, Calif., in 1860.
Meadows comes from a pioneering family. He said his great grandfather, John Moberly Meadows, was a wagon master during the 1849 Gold Rush and led five wagon trains from Missouri to California.
"Uncle Charlie went to the Klondike Gold Rush in 1898," Meadows said. "He hired carpenters to build the Palace Grand Opera House the next year.
"It was three stories high and had a bar downstairs and stage. There were rooms upstairs in which private meals were served to the well-to-do."
The Palace Grand today is recognized as a National Historic Site by the government of Canada. It is located in Dawson in the Yukon Territory.
Arizona Charlie sold the Palace Grand a year after opening it. He went on to partner in Wild West shows with Buffalo Bill Cody and Annie Oakley, Meadows said.
His great uncle also did some prospecting.
"He said it was hazardous to carry gold out of the Klondike because it was heavy and you could be held up," Meadows said. "He would come out with diamonds in a handkerchief full of them."
Thieves in that era apparently did not recognize the value attached today to diamonds.
Meadows, who was born in San Diego, said his great uncle visited him during the time he attended high school in Yuma. Arizona Charlie would arrive in a Model A Ford that he got to drive "almost until its wheels fell off" after his great uncle died in 1931.
"Each time he came to our house, he'd give me $5, and for a kid in high school during the Great Depression, that was a big deal," Meadows said.
Arizona Charlie enjoyed a home-cooked meal, often T-bone steak, at the family home.
Arizona Charlie was so renowned and revered that a delegation of people from Dawson went to Yuma and placed a memorial plate on his grave, although Meadows could not recall in what year.
"He said when I die it will snow in Yuma," Meadows said. "Snow had never been known to fall in Yuma, but on the night we buried him, it snowed.
"I often wondered how he could have known. I think a fortune teller in Dawson told him."
The Arizona Charlie's Hotel & Casino in Las Vegas is a replica of the Grand Palace in Dawson today. A cousin, who is a real estate developer, had a hand in that project, Meadows said.
Meadows said he spent 18 years as a consultant to factory managers, coming up with solutions to problems they experienced in their companies. He also worked for Lockheed Aerospace in Sunnyvale, Calif., for four years.
"I worked on PBY-5 patrol aircraft for Lockheed," Meadows said. "I also worked on the anti-skid and umbilical cord systems for the space shuttle."
He also had a hand in construction of the first 747 jumbo jets.
Meadows moved from Capitola, Calif., to Kingman in 1989. He said a cousin gave him an acre of land north of Kingman in Santa Claus.
More like this story