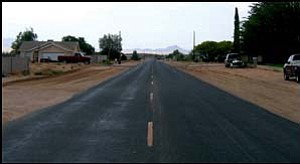 Originally Published: August 19, 2007 3:02 p.m.
The city cannot move a muscle on its plan to make full improvements to Eastern Avenue, a street that has become a major thoroughfare since the Louise Avenue railroad crossing closed last year.
The street currently serves as a main connector between Hualapai Mountain Road and Airway Avenue, but until voters approve funding in the November ballot, it is going to remain the sporadically bumpy two-lane thoroughfare it is today.
While officials have been brainstorming what improvements the road will need, voters have to approve the $36.4 million street bond in order for the city to move toward those goals.
The plan at this stage is to widen Eastern to three lanes and install curbs, gutters and sidewalks from Pasadena Avenue to Kenwood Avenue. The addition would serve as a turning lane down the approximately 1.5-mile stretch.
According to the 2005 Kingman Area Transportation Study, Eastern Avenue will have a traffic capacity deficiency by 2023 in the section between Airway and Louise avenues. Louise is six blocks south of Pasadena, where the improvements would begin.
"The 2023 volume-to-capacity ratio will decrease from 1.20 to 0.41 if it is widened to four lanes. The construction costs in 2004 dollars is estimated to be $5.7 million for two miles of widening. New right-of-way is required to construct this widening. Currently, right-of-way between Louise Avenue and Airfield Avenue is 80 feet and between Airfield and Airway avenues is 50 feet," the KAT Study states.
The city's needs for infrastructure improvements in the future assume a population of 77,748. To achieve that number, the city will need to attract about 3,125 new residents each year for the next 16 years.
According to Public Works Director Jack Kramer, without a preliminary design - which the city can't begin until it receives funding - the amount of right-of-way needed isn't known exactly.
Improvements to Eastern are one of nine total street projects included in the street bond. It takes up $3,594,044 of the total $36.4 million street bond.
On June 18, City Council voted to issue ballot measures for 17 projects totaling $56.7 million. Voters will not be able to vote on individual improvement projects, however, because they are lumped into three categories: streets, parks and public safety.
The three bond categories, Kramer said, keep people from voting for the one or two projects they want, projects that will impact them personally. By including so many projects into one bond, the city improves its chances of making mass improvements to infrastructure.
The street bond totals $36.4 million. Homeowners will pay the bill with increases to their secondary property tax. For a home valued at $100,000, the owner will pay approximately $61.33 per year in additional taxes. Commercial entities with assessed values of $100,000 will pay approximately $147.20 more per year. For properties valued higher, the taxes would be higher. For properties of lesser value, taxes would be lower.
Currently, the city's biggest issue with the Eastern Avenue improvements is acquiring right-of-way needed for expansion.
City Engineer Greg Henry said the process for acquiring the necessary land would determine how quickly the city could move on the project. However, before that, voters must pass the street bond. Depending on the landowners' cooperation, the process could be lengthy, or it could be easy, he said.