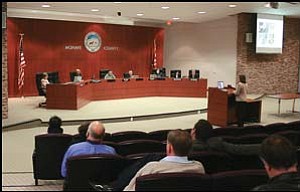 Originally Published: December 5, 2007 1 p.m.
KINGMAN - A recent needs assessment study from Jackson & Ryan Architects only confirmed what many county residents already knew; the county's two animal shelters are beyond their service life and a new one needs to be built.
Earlier this year, the county had budgeted a total of $200,000 for a needs assessment study and improvements to both shelters, County Finance Director John Timko said. The county typically has a study done before any major capital improvement projects are sent before the Board. This study cost the county around $70,000, Timko said.
Martha Seng from Jackson & Ryan presented the study to the Board of Supervisors during Monday's meeting. The firm specializes in animal shelter design.
Representatives from the firm looked at both the Kingman and the Mohave Valley animal shelters. Seng recommended closing both shelters and building one new shelter in Kingman.
"We found both facilities to be in a state of disrepair to the point where they cannot function effectively as animal control facilities," she said.
Roy Hayes, co-president of CARE-Net, voiced the group's support of the study and presented the Board with almost 5,000 petition signatures in favor of a new shelter.
The Board accepted the study and sent it to staff for recommendations.
Seng said the firm found several deficiencies in both shelters including: undersized facilities for administration and storage, cracked concrete flooring, cages that are too small, damaged chain-link fences, an odor that cannot be cleaned out, safety issues and rodent infiltration.
"They're probably one of the worst conditions for animal housing because there is no disease control," she said. Sick or dangerous animals are housed next to healthy animals.
Staff is often uncertain as to what is housed in each cage, she said.
Also, the heating and cooling systems, and electrical systems are well past their lifespan, she said.
"They're barely hanging on," she said. "In many cases, we're surprised they're still functioning."
Staff work areas are falling apart, laundry equipment often doesn't work, and euthanasia areas are insufficient and unsanitary.
There are public safety and security issues related with both sites as well.
The facilities violate the new ordinance the county passed concerning sanitary requirements for shelters and animals hospitals.
The Kingman site is landlocked and hard to find. The Mohave Valley shelter is in a more remote site and has a septic system that has reached its limits, she said.
Animal Control officers are doing double duty answering calls, cleaning up and caring for animals and answering questions from the public.
Officers are not trained for customer service, Seng said, and the firm found a very low customer satisfaction rating for the shelters. Because of this, animal adoptions are down and euthanasia rates are up.
Both shelters are well beyond their capacity levels, Seng said. In 2006, the shelters took in 7,776 animals.
By 2015, the firm projected an animal shelter population of 10,443.
The shelters currently have 92 kennels and cages for animals. By 2015, the county will need at least 225 kennels and cages.
Seng recommended one central facility, most likely located in Kingman on a large enough piece of property that the building could be expanded if necessary.
She recommended that the new facility have epoxy floors to keep cracks sealed, drains in each kennel, stainless steel cages, a sally port with an evaluation room for new animals and a spay and neuter clinic.
Seng also recommended that sufficient staff be hired so that officers do not have to do double duty and that the county interact with the animal support groups like CARE-Net.
Seng proposed the new facility be at least 17,500 square feet in size. She expected the facility would cost the county around $5.7 million to build.