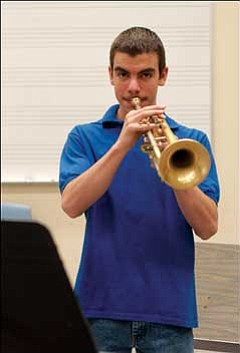 Originally Published: December 21, 2007 11:42 a.m.
Trumpet was not the first choice for Stefan Loncar when he was in fifth grade. "I wanted to play saxophone, but took up the trumpet instead," he said.
Loncar, a junior at Kingman High School, doesn't know what might have been had he gone with the saxophone. But his proficiency with the trumpet has earned him All-State honors for a second straight year. Last year, he made the All-State Clinic Band, earning second chair for trumpet. That made him seventh overall in auditions for 10 seats, five each on the Clinic Band and five for the All-State Jazz Band.
Loncar made the "first team" this year as a Jazz Band member, earning fifth chair for trumpet during auditions held at Deer Valley High School in Phoenix on Dec. 8. "It was pretty nerve wracking in going up against every trumpet player in the state," he said. "There were two auditions. After the first, the field was narrowed from 80 to 14. The second kicked out four more and you have your bands."
Student musicians had to play two scales and four etudes (fast swing, Latin, ballad, medium swing) during the auditions. They also had to do two improvisations for B-flat blues and to a song written by Chet Baker titled, "There Never Will Be Another You."
Loncar heads to Phoenix for two days of rehearsals with the All-State Jazz Band Jan. 10-11. Each day is expected to include eight hours of play.
The reward is a Jan. 12 performance that will last about 40 minutes. KHS band director Gino Hernandez is working with Loncar for a third year.
"Each year, he gets better," Hernandez said. "He's a hard worker and it shows in his playing. His improvisation skills are tremendously better and his range is a lot higher."
More like this story