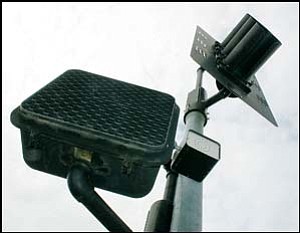 Originally Published: February 1, 2007 11:37 a.m.
KINGMAN - Ever heard that chirping sound near Airway Avenue and Willow Street? Word is it's downtown on Beale Street and Grandview Avenue, too. Believe it or not, it's actually not a bird with perfectly timed chirps that last a matter of 15 seconds that then suddenly quit.
It's an audible crosswalk device, and it's used all over the country, even more in Europe, for the blind.
According to two city officials, the Arizona Department of Transportation has installed two of these devices at these locations to aid the blind in safely crossing the streets.
Kingman's Public Works Director Jack Kramer and Blake Chapman, the streets superintendent, said both the devices were installed as a result of area residents' requests.
"I think it was something they were kind of experimenting with, it's not required or anything," Chapman said.
"They just started using them here or there."
Kramer remembers ADOT not being too pleased about installing the devices originally because an advocacy group has an issue with the chirping sounds, which are at different frequencies from north to south direction crosswalks and east to west.
According to a 2002 ADOT document from the agency's Web page, azdot.gov, "...advocacy groups for the visually impaired have not achieved a clear consensus regarding the need for and design of audible and vibrotactile indications." Vibrotactile devices serve the same purpose as audible signals except they vibrate instead of chirp.
More like this story