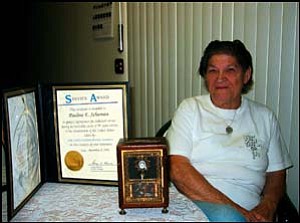 Originally Published: January 2, 2007 7 p.m.
GOLDEN VALLEY - A first-class postage stamp cost 5 cents when Pauline Schuman went to work for the U.S. Postal Service.
That was in August 1966, and Schuman did not handle stamps during her first year at the post office in Lawndale, Calif.
"I began delivering parcel post packages," Schuman said. "They later gave them to the route carriers and I decided I didn't want to lug 35 pounds on my shoulders, so I moved inside as a clerk after my first year."
Schuman moved to the post office in Manhattan Beach, Calif., in 1970 and stayed there until retiring in September 1994. She moved to Golden Valley one week later to be near her eldest son, Frederick Burd and his wife, and went back to work in December 1995 for the postal service contract station in Golden Valley on a part-time basis.
She continues there as a window and box clerk today.
She knows nearly all her customers by first name.
"I told everyone I was going on a week's vacation and not to worry," Schuman said last Tuesday. "If the people you wait on don't see you, they want to know what's wrong."
Schuman, who was born in Califon, N.J., took a civil service exam for the post office in May 1966. She said she did not think she could pass it and was surprised to get a call from the postmaster in Lawndale in August asking if she could start work right away.
She added applicants did not have to score as high 40 years ago on a civil service exam as today to be hired. However, one requirement was being able to lift up to 80 pounds.
"A post office job then offered good pay for a woman," Schuman said. "My husband was 13 years older than me and I figured if something happened to him, I would be able to support our kids without asking for help."
There were a handful of female employees at the Lawndale Post Office when Schuman started there. There were about 30 total employees, including carriers.
There was just one male employee with whom she had trouble getting along and he basically was lazy, Schuman said. Everyone else worked well together.
Her first Christmas as a postal employee saw Schuman driving an Army Jeep around the community to pick up letters from boxes. It took four hours to complete one sweep and she made three sweeps over 12 hours, she said.
The cost of a first-class postage stamp climbed to 29 cents by the time Schuman retired on Sept. 2, 1994. One of her more vivid memories concerns stamps sold when she worked at the Manhattan Beach Post Office.
"A couple came in and she bought stamps," Schuman said. "There were waist high tables along the windows and the couple went over to them.
"She proceeded to tear off stamps and he held out his tongue and licked them. After wetting the stamps, she put them on numerous letters."
"They must have been in their 80s and I thought, 'that has got to be love.'"
Schuman said the woman bought in excess of 30 stamps on that visit.
Schuman's younger son, Arthur, also lives in Golden Valley. He moved there from Iowa about a year ago.
Her third child is a daughter, Patricia Bodman, living in Muscatine, Iowa.
Reading occupies Schuman's spare time. Working at the post office fulfills another enjoyment of talking with people.
The contract post office in the Maverik service station where Schuman works will close on Jan. 31.