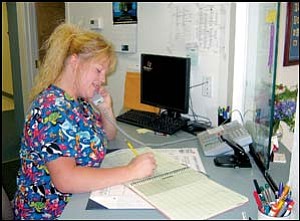 Originally Published: July 9, 2007 2:39 p.m.
EDITOR'S NOTE: This is the second of two parts regarding long wait times in doctors' offices.
****
KINGMAN - Local physicians or their representatives say waiting times in their offices are not excessive.
Kingman resident Clark Isaacs asked why waiting times are so long following a recent experience in which his wife, Loreen, waited two hours past her scheduled appointment and then had to leave without seeing the doctor because her son, who drove her to the appointment, had to get back to work.
"We don't leave our patients sitting in the waiting room very long," said Janeen Matheny, office manager for Dr. Robert Matheny, a pulmonologist. "If they wait 15 minutes, that's a long time.
"As far as patient load, he has a new partner (Dr. Dat Nguyen) starting July 9 and that will help his patient load, so more people can get in sooner when they're sick."
Matheny said waiting time for new patients to get an appointment with her husband in the past was three weeks, except in cases of emergency. That also will change with the arrival of Dr. Nguyen.
Dr. Vinod Singh, a gastroenterologist, has practiced in Kingman for 13 years.
"The best compliment I ever got from a patient was that I provide service like 50 years ago and the reason for that is I am a specialist and see 10-12 patients per day," Singh said. "There is no waiting in my office because I don't see 50-100 patients per day like primary care doctors."
There are occasions when he may be 5 minutes behind schedule with patients and apologizes for any delay, Singh said.
"Communication is the key," he said. "If I know I'm going to be late getting to my office I notify my staff. People are forgiving when you keep them informed."
Tanya Thomason is office manager for Dr. Hesham Sahawneh, a general surgeon. She said he is pretty "on time" in seeing patients.
"I would agree there's a widespread perception that doctors overbook patients," Thomason said. "Whenever I go to a doctor, I usually end of waiting a half-hour longer before I am back (in a treatment room)."
How is it determined how much time to spend with an individual patient to keep flow steady and avoid undue waits for those that follow?
"There is no rule of thumb," Janeen Matheny said. "Some need to tell us of their problems, while others seen regularly just need a determination of whether they're getting worse or better."
Each patient varies depending on severity of illness and depth of treatment. Some can be seen quickly, while others require more extensive treatment, hence 15-20 minutes with the doctor is an average time, Thomason said.
Matheny and Thomason both said they seldom encounter patients disgruntled by waiting times.
In part I of this two-part series, Isaacs suggested utilizing volunteers to free up office staff personnel from clerical and other responsibilities so they could at least do blood pressure and other mundane duties performed by assistants. The American Association of Retired Persons might help toward that end.
However, David Mitchell, state director for the AARP, said the idea would not be practical because everyone working in a doctor's office requires some type of training, even for doing routine blood pressure checks.
Isaacs came up with one other idea that might speed patient flow.
"Maybe a clearinghouse where doctors and dentists call a number explaining what free time they may have when openings occur," Isaacs said. "A person, perhaps with a toothache, could call it and ask, 'Where can I go?'"