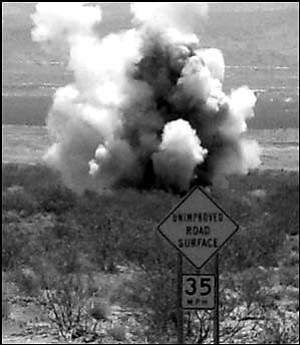 Originally Published: June 29, 2007 5:34 p.m.
KINGMAN - Mohave County Sheriff's deputies located explosives inside a vehicle last Wednesday morning and closed a Golden Valley road while they detonated the dynamite.
At about 8:23 a.m., deputies on patrol located an abandoned Oldsmobile Cutlass on Shinarump Drive near Colorado Road in Golden Valley.
Upon inspecting the abandoned vehicle, deputies found 3-5 sticks of dynamite inside a plastic bag.
Mohave County Road Department immediately closed Shinarump Drive from Colorado Road to Tombstone Trail.
Sheriff's Citizen Action Team members helped with traffic control. Kingman Police Department's Bomb Squad responded and destroyed the dynamite.
Authorities re-opened Shinarump Drive to traffic at about 11:10 a.m.