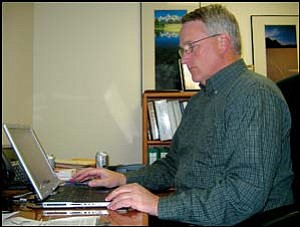 Originally Published: March 26, 2007 2:26 p.m.
KINGMAN - This past week was spring break for students at Mohave Community College.
However, Michael J. Kearns, who will take the reins from Thomas Henry as chancellor on Nov. 1, had work in his office Monday when he sat down to discuss past successes and future challenges for the college.
Miner: Tell me about your background and where you're from?
Kearns: I'm from the Cleveland area and a small town called Avon Lake, Ohio. I graduated from dental school at Case Western Reserve University in Cleveland. After graduation, I needed to go someplace where there was growth, and the town of Avon Lake was a fast-growing suburb.
I moved there in 1980 and established my dental practice. I practiced by myself for about five years and then brought in partners and other dentists that shared my office. I continued there until 2004 when I sold my practice to my most recent partner and moved out here."
Miner: When did you join MCC and in what capacity?
Kearns: In January 2004, I came to Mohave County to become director of the college's dental hygiene program, which was brand new and didn't exist. We didn't have any students, and it was in the planning stage as well as in the initial stage of the accreditation process.
Miner: What would you describe as your successes to date with MCC?
Kearns: I think the biggest success was I got here in January (2004) and the dental hygiene program had to open in August, so we had 8-1/2 months to get the accreditation process done, building built, faculty hired, processes in place and supplies purchased. It was a major task.
It was a process that went very smoothly because we had a lot of hands on deck keeping an eye on things. The building went up without a flaw, and we're very happy with the structure.
The clinic is state-of-the-art. We had to purchase all the equipment, interview all the vendors, go to the bid process and all of that as well as try to equip it so we can teach the students not only the current state of what's out there in private practice, but also with the emerging technologies.
Miner: What does MCC do very well?
Kearns: Probably the best thing is creating an access point for our students. By access we look at a couple of points of view.
Education has to be affordable, and financial aid is a key to affordability. If students can't afford to come here, education becomes inaccessible.
Second is the breadth of our programs. We have programs and vocations that go from electrical and welding all the way up to nursing, dental hygiene and surgical technology. It's a very broad spectrum.
We wish we could do more programs, but we have to have a job market that is sustainable.
Miner: What will be your top priority as chancellor?
Kearns: We have identified priorities that are first and foremost in our minds. I don't see us changing track. We need to stay on our focus of students. It's a process of continuous improvement with student success as the bottom line.
Miner: Can you be more specific?
Kearns: What we have planned for next year is a reorganization of our tutoring process called supplemental instruction. We know a lot of students come to us needing remediation. They're just not ready for college coursework when they get here.
We have begun the process this last academic year where we re-organized pre-college studies courses and those are the GED, adult basic education and English language for adult learners. We have re-organized that entire department so students can be more successful.
Another component of that is developmental education, which we are renaming transitional studies. Those are for students who aren't quite up to par for taking college courses. We're reorganizing that and changing the curriculum, adapting coursework more to the student's level of achievement and the final goal in mind is to have more students complete that program in a timely fashion so they can begin to enroll in college coursework."
Miner: What makes for a good chancellor?
Kearns: You must be a good listener. We have both internal and external environments that we have to work in.
It applies to the CEO in any organization. Talk to Lee Iococca (of Chrysler). He's not the guy who puts the fabric on the upholstery, but he has to know what that means to the customer.
So I see the role of chancellor as being a good listener to find out what the environment is telling him and being able to hire good people who have the knowledge to take care of those specific details.
Miner: You have a master's degree in business administration, but what in-classroom teaching experience have you?
Kearns: In 2000-2001, I began teaching anatomy and physiology at Lorain Community College in Elyria, Ohio. The next year I began teaching the dental hygiene program and taught in both areas until I came here.
While director of the dental hygiene program (in Bullhead City), I taught there. Anatomy and physiology are biology courses in the allied health field and my area of specialization."
The interview concluded with Kearns saying his goal is to develop leaders who can run an organization. That is the focus of a MBA program.
"Education is a business," he said. "You need the same management skills to be a chancellor as you do to be CEO of a computer company. The tools taught in a MBA program are focused for both the profit and not for profit sectors.
"You need to understand the difference between a stockholder and a stakeholder. Stockholders want money, and stakeholders want service. The bottom line is the same, and that's what I wanted to do when I came here as director of the dental hygiene program."