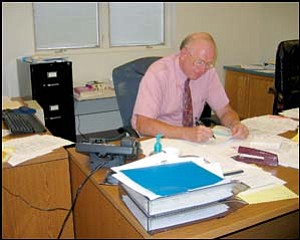 Originally Published: September 7, 2007 2:36 p.m.
Steve Condict faces a formidable challenge in his role as the new superintendent of the Peach Springs Unified School District.
The district was headed into receivership status due to serious financial problems. Veriti Consultants of Phoenix took charge of the district Aug. 27 as the receiver due to a debt of roughly $1.5 million. The district governing board, comprised of four members of the Hualapai Indian Nation and one Hispanic, gave Condict a one-year superintendent's contract.
"They want me to get things turned around," Condict said. "We need to regain fiscal responsibility but with decisions made based on the needs of the kids.
"When you have a tremendous debt, everyone must pitch in, tighten their belts and learn to do more with less.
"We're going to learn to live within our budget. As far as paying off previous debts, I can't answer that at this time."
The district's budget this fiscal year is about $2.1 million. That must go to operate two schools, Music Mountain Junior/Senior High School and Peach Springs Elementary School, handle maintenance, purchase supplies and pay salaries to 31 full-time employees.
Roughly half of the employees are tribal members, and the remainder Caucasian, Condict said.
Condict feels he has made a good start toward getting a hand on finances. Administrator numbers have been cut from four to one and the teaching staff pared from 25 to 12.
"A lot of people are pointing fingers at our board for our problems," Condict said.
"I can't say there was any misconduct on the part of my predecessor (Eugene Thomas), but he evidently was under the impression there was more money to spend than there actually was. He convinced the board things were covered with grants and revenues yet to come in and that was not based on actual figures."
Condict has been on the job for a month and still is finding out just what is owed, based on invoices and calls from vendors and creditors who haven't been paid.
District enrollment stands at 203 students. Nearly 99 percent are members of the Hualapai Tribe, and the remainder come from the Supai Indian Nation, he said.
"Consultants were here Tuesday and Wednesday," Condict said. "They'll be out here weekly from now on and attend all of our board meetings. We'll communicate any expenditures to them before making those expenditures."
Mike File, Mohave County superintendent of schools, previously stated he believes the PSUSD can get out of receivership in a year with Condict in charge.
"We're going to try," Condict said. "But the final decision is up to the receivers.
"I've done some cutting and am looking at what more can be done to further save money."
More like this story