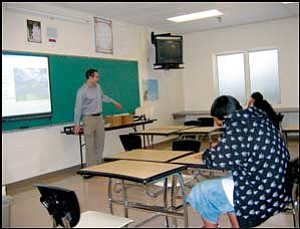 Originally Published: September 9, 2007 3:16 p.m.
Receivership means someone else is managing finances and often is marked by cuts that reduce staffing levels and programs.
That is the situation in the Peach Springs Unified School District, which entered receivership Aug. 27 due to a debt of about $1.5 million.
Steve Condict has replaced Eugene Thomas as superintendent and the change in administration has left room for optimism about the district's future among some staff and students.
"We're going through a big change now," said Gary Halbert, who is in his second year as a math and building trades' teacher. "We're trying to get back on track and can't spend as we did last year.
"Everybody is waiting to see what the state's going to do, but I think we'll turn it around. We're headed in the right direction.
Kevin Voit is in his second year as a social studies and English teacher. The difference between the two superintendents for whom he has worked is marked.
"Whenever I go in and ask for a frank assessment of the situation now, Mr. Condict tells me how it is," Voit said. "Mr. Thomas would always tell you what you wanted to hear.
"I'm not aware of any consensus among the staff (about expectations for a better environment or take a wait-and-see attitude). We all want to do our jobs for the kids, and they've done well with the situation of starting a week late and getting things going."
Kristina Shongo is a senior at Music Mountain Junior/Senior High School. She also is the reigning Miss Teenage Hualapai after winning that pageant in January.
She said students now enjoy going to class and are not walking around the halls aimlessly as was the case last year.
"We want to come to school because it's better than it was in other years," Shongo said. "Hopefully, we'll have more teachers and electives in the future."
Condict reduced teaching staff from 25 to 12 as a cost-saving move after he became superintendent. He also eliminated three administrator positions.
Junior Brian Smith likes the more relaxed environment at the school.
"We want to come to a better school, where kids can learn and not be harassed," Smith said. "We also want to add more students so we can get sports programs (like football and basketball) going.
"The kids behave more now. They go to class and do stuff more freely like going to the gymnasium, so there have been quite a few good changes."
The district has 203 students in its two schools, the other being Peach Springs Elementary School.
Condict is working on a one-year contract and hopes to be able to get the district back on its financial feet. However, he said the ultimate decision on when the district is ready to operate independently once again rests with Veriti Consulting of Phoenix, the receiver.
More like this story