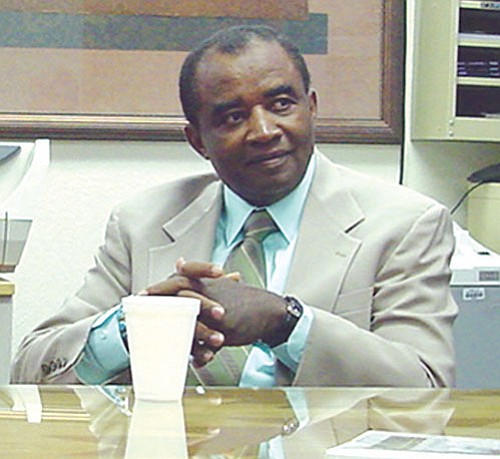 Originally Published: April 18, 2008 5:37 a.m.
KINGMAN - Mohave County Superintendent of Schools Mike File says that Wednesday's action by the Tuba City Unified School District Governing Board was a "start" in the right direction.
The Board placed Superintendent Eugene Thomas on paid administrative leave following a meeting not announced in advance to the public, according to a story Thursday in the Arizona Daily Sun.
Rosanda Suetopka-Thayer, public relations director for the school district, was not at the meeting. She said Thursday two credible sources told her later people were there not from the area and identified as state representatives but were not recognized by the sources and no specific names were mentioned.
They spoke with board members and, following an executive session, members voted 3-2 to put Thomas on paid administrative leave.
File made a complaint last September about Thomas that is still under investigation by the investigative unit of the state Board of Education. His Statement of Allegations alleges unprofessional and immoral conduct by Thomas related to his time as superintendent of the Peach Springs Unified School District.
"This is a good start to finally tracking down his professional conduct and trail of anyone who challenged him to do procedures the correct way at Peach Springs and Tuba City being disciplined," File said Thursday.
File added his knowledge of Thomas' methods and operations and the Veriti Consulting report "certainly indicates wrongdoing."
Thomas was superintendent at Peach Springs from August 2005 through June 2007. Veriti Consulting of Phoenix was appointed receiver for the district last August, after Thomas left to take the superintendent's position in Tuba City.
Veriti released a 120-Day Report and Financial Improvement plan for the District on Jan. 25. Some of its findings were that Thomas entered into agreement for construction of an 11,000-square-foot junior high school and administration building and incurred other substantial operating over-expenditures and construction debt.
A Miner story published Feb. 1 more fully explains the report's findings. Its recommendation was that Thomas should be stripped of his teaching, principal and superintendent certificates.
A check of the Tuba City Unified School District Web site on Thursday morning found that the superintendent's link has been blanked out. The link for the governing board stated, "The page you are looking for might have been removed, had its name changed or is temporarily unavailable."
Cyndy Cole, the Daily Sun reporter who wrote the story, e-mailed the Miner that she researched court records for a possible indictment of Thomas and could not find one, nor any other reason for the Board's action.
A phone message was left at the Tuba City School District office requesting a phone number at which to contact Thomas. That call was not returned.
The Miner contacted Linda Honahni, Tuba City Governing Board president. She referred questions to Harriet Sloan-Carter, acting administrator-in-charge.
"I was not at the meeting, and all the information I have is that I've been asked to be acting administrator until further notice," Sloan-Carter said.
In response to a Miner inquiry, Charles Easaw, chief investigator for the investigative unit of the SBE, phoned and left the following message.
"The state Board of Education and investigative unit were not involved in that meeting, and we have no knowledge of what went on other than what was reported today in the Arizona Daily Sun," he stated. "The investigation of Mr. Thomas is ongoing as to allegations of gross financial misconduct in the Peach Springs School District, and that's all the information I have for you."
Suetopka-Thayer is on paid administrative leave along with district Construction Manager Ron Begay. Both have been opponents of Thomas.
"I'm somewhat relieved by this action," Suetopka-Thayer said Thursday. "The Board should have taken our concerns seriously last year when we approached them. I've been with the district seven years, and Ron is an alumni of Tuba City. Our concerns were not seen as legitimate, and they took Thomas' word on everything, even though he had only been there four months."
File sent a packet of materials to the Tuba City district last year about issues at Peach Springs related to Thomas' time there. The information was intended for governing board members, but nothing came of it, Suetopka-Thayer said.
File then sent another information packet to her home, and what she read was "terrible stuff," Suetopka-Thayer said.
Suetopka-Thayer tried to contact board members, but a secretary she spoke with "turned me in" to Thomas.
"He reprimanded me for breaching protocol," Suetopka-Thayer said. "I said I could not come to you because this issue is about you."
Thomas then began closely monitoring Suetopka-Thayer. She later had contact with Begay and learned of construction issues and possible violations by Thomas. Harassing phone calls to her home followed.
In October, Suetopka-Thayer and Begay met with Coconino County Superintendent of Schools Cecelia Owen.
They presented documentation they had compiled of Thomas' alleged wrongdoing and gave statements concerning gross financial mismanagement, creating a hostile work environment and irregularity in policy adherence, among other things.
They were granted "whistleblower" protection Dec. 5.
"Thomas found out what we'd done the next day," Suetopka-Thayer said. "Ron was demoted and my e-mail, district cell phone and land line phone were cut off."
Suetopka-Thayer said she hopes the DOE will move forward with revoking Thomas' professional credentials. File seconded that thought.
More like this story