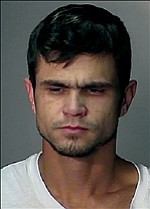 Originally Published: April 28, 2008 7 a.m.
There was no leniency for an out-of-state robber in Judge Steven Conn's court on Friday.
Brandon L. Steinberg, 33, of Leland, N.C., pleaded guilty to felony robbery. He was sentenced to 3.75 years in prison - the maximum sentence available - and six months of probation upon his released. Steinberg also was ordered to pay $2,300 in restitution. He was granted 99 days credit for jail time already served.
On Jan. 10, Steinberg robbed the Downey Savings bank on Stockton Hill Road.
Defense Attorney Elana Sears asked Conn to take into consideration Steinberg's history of drug and family problems, the fact that a weapon was not used in the crime and that a minimal amount of money was taken - about $2,300.
"It was a horrific experience for the teller," said County Attorney Leroy Albright. He argued that in most cases a victim involved in a bank robbery expects there to be a weapon, whether there is one or not.
"Just because there wasn't a weapon doesn't mean it was not horrific," he said.
Albright pointed out that this was not the first bank Steinberg had robbed. Steinberg is charged with four bank robberies in Utah. He also had four prior felony convictions.
Conn agreed with Albright, stating that most victims of a bank robbery expect a weapon.
The financial and emotional impact on the victims, and considering Steinberg's prior convictions under aggravating circumstances, required the maximum sentence, the judge said.