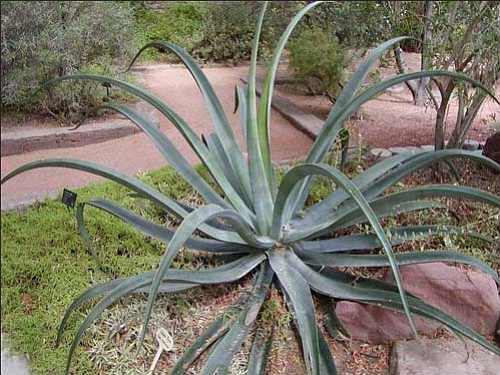 Originally Published: August 3, 2008 6 a.m.
Succulents are a wide group of plants and include many diverse species. In general, they do well here in Mohave County, and it is easy to find one to fit into almost any situation. They are easy to care for and can add a lot to your landscape or patio.
Succulents are plants with thickened, fleshy parts - leaves, stems, and/or roots. Their succulence is usually a storage adaptation that has evolved where fresh water must be conserved for the plant to survive. Very different kinds of plants qualify as succulents (from lilies to cacti) and can be classified by which part of the plant is fleshy, either the stem or leaf. Many of these plants are native to the desert and will perform well in our area.
Succulents not only have extraordinary fleshy leaves, stems or roots, but also have a particularly elegant line and interesting architectural form. The variety of textures, colors and flowers is immense.
Many have the added bonus of exotic and beautiful flowers and can bring as much pleasure as the most delicate orchid. Succulents can give the home gardener new options to create wonderful landscapes, as well as having a distinct toughness which can be appreciated in our climate.
Most succulents are ridiculously easy to grow, are generally remarkably durable and need little water or special treatment. They are very forgiving when transplanted, and most have a phenomenal capability to re-root and establish themselves following a disturbance. Cacti are great examples of this.
To successfully grow succulents, most need bright light with some tree or shrub shaded areas for species requiring some protection from our hot sun. There are others that will grow in the deep shade, on patios, in containers or even in the house. Irrigation and use of added soil amendments depends on your site and what you wish to accomplish. However, good drainage is a must. Appreciate the powerful capacity of succulents to survive without much water, but they will do better with supplemental irrigation and fertilization.
The homeowner who wants to create a new and beautiful landscape should be aware that succulents can be used in a wide variety of situations - in small or large areas. They can be used for normal bedding schemes, container gardens, from distant property edges to garden focus, from swimming pool areas to courtyards.
The use of succulents can enhance many styles of architecture and are great when you want to be inventive, creative and express your own personal style.
Displays of purely succulent plants can be very dramatic. They can be planted in masses using a variety of succulents and including the well placed use of a few specimen plants. Often, a good amount of exposed rock or soil is used and will create a sense of desert.
Rockeries and terraces offer special opportunities. Succulents thrive with the great drainage resulting when plants are tucked among the rocks.
Patios and porches can easily be enhanced by succulents in containers. Succulents can blend beautifully with the hard surfaces of concrete and stucco, stone and sand. They can look even better at night by being lit from above or in front, or for special drama, back-lit.
There are many succulent plants to choose from, but there is only space to mention a few here.
Agaves are one very recognizable group of succulents noted for their form of thick, pointed, radiating leaves. Most have spines and lots of them, so use away from high-traffic areas. Most agaves send up blooms on tall stalks after years of growth and then die. By then, they have usually produced a number of offsets as replacements.
Aloes are another group of succulents that do well here. They can be used in mass plantings or as a striking accent. Depending upon the variety, aloes can be planted in the sun or shade. Aloe vera for example does well here but does prefer afternoon shade to look its best.
The Peruvian cereus cactus is a large columnar cactus that is often grown in this area. It will need to be protected from hot reflected sun but can be used as an accent in groupings or in a large container.
Other beautiful succulent cacti include the opuntia species. One of the most common in this area is the native beavertail cactus with its magnificent magenta blooms in the spring. Both the saguaro and the ocotillo are succulents and very popular for use here.
The last two succulents I want to mention here are both used as ground covers. One plant of prostrate myoporum can spread to a diameter of nine feet and has attractive white flowers in the spring. Aptenia is another attractive bright-green leafed succulent which grows vigorously but needs filtered shade in the hot summer. The bright red flowers are especially attractive. Both plants will cascade over walls or from pots and planters. They combine well with other ground covers and can provide erosion control on a hillside or act as a lawn substitute.
There are a few basic observations you may want to keep in mind when planting succulents in your garden:
• Keep plants together based on scale - a small plant suitable for a rock garden would be lost next to a large agave.
• Repetition is beneficial.
• In general, massing of like plants can keep a garden from looking too busy.
• Good staging is beneficial - layering and spacing of plants of different heights and widths adds depth and interest to your garden.
Succulents are a unique group of plants that offer the home gardener a great number of choices in form, texture and color. Consider the possibilities on your next visit to the nursery.