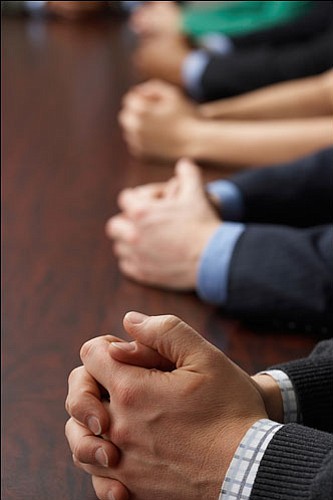 Originally Published: August 6, 2008 6 a.m.
KINGMAN - Last Wednesday's City Council work session provided plenty of substance for Monday night's Council agenda. Only limited action was taken, however, with Council tabling no fewer than four items to future meetings.
Perhaps the most significant item to be tabled was the Council's consideration on filling the city manager position, left vacant for the past 11 months.
Staff provided Council with five options: hiring a private headhunting firm, seeking aid from the Arizona League of Cities and Towns, doing the search in-house, combining two or more of these methods, or simply hiring acting City Manager Jack Kramer outright.
Councilman Kerry Deering said that, as of four months ago, a number of similarly sized towns throughout the state were already searching for city managers, and that the pool of talent would be fairly shallow as a result.
He asked Human Resources Director Jackie Walker whether those cities had filled their positions yet, and Walker said that they all had.
She noted that Goodyear, Surprise, Chino Valley and Jerome had all conducted outside searches for their new city managers.
Vice Mayor Janet Watson said she felt that choosing a city manager was the most important decision the Council could make.
She suggested that before choosing whether to hire Kramer or do an outside search the Council should first hold an extended executive session with Kramer to discuss his qualifications for the job and gauge his opinions on it. Mayor John Salem agreed, saying it was important Council not confine the executive session to a mere hour before the next meeting. Members voted unanimously to begin the session at 4 p.m. Aug. 18, with the action item to be reconsidered afterward.
Deering said he appreciated the need to discuss the situation with Kramer, but nevertheless urged Council to take action soon. He said he could recall the state of occupational limbo Carl Cooper had been in between serving as acting city attorney and being hired as the current city attorney. He did not want Kramer to suffer the same uncertainty over his career.
"He needs some closure, too," Deering said.
Council also considered expansion and renovation of the city's antiquated radio communications system, another agenda item borne of last week's work session. Kingman Fire Department Chief Chuck Osterman said it would take at least another month for the fire and police departments to determine what renovations needed to be made to bring the system fully up to date. He added that the Finance Department had already begun figuring out how much the renovations would cost, though a final figure was still weeks away - the $1.4 million figure cited by a network study two years ago has likely gone up in the interim - and where the money would come from was still uncertain.
Council voted 7-0 to direct staff to analyze the situation and come back with actionable options as soon as possible.
Council gave similar instruction to staff regarding the fate of the Development Services office at 201 N. Fourth St. The city currently leases the building for $6,750 a month with an option to purchase it outright for $950,000. Members voted to direct staff to determine the costs of doing an appraisal of the property, as well as look at other properties near City Hall that might serve as an alternative home for Developmental Services.
An amendment to the city zoning ordinance regarding the revocation process for conditional use permits was also pushed back, due to a clerical mistake made by Developmental Services Director Gary Jeppson. The amendment, one of four options drawn up by Jeppson, would cause any unresolved CUP complaint to be heard by both the Planning and Zoning Commission and the City Council.
Watson noticed, however, that the amendment failed to include the option of giving noncompliant CUP recipients extra time to address complaints, meaning that Council could only either find the CUP in compliance or revoke it outright. Jeppson said this was an oversight on his part, and Council voted unanimously to table the issue to Aug. 18, giving him time to include the new language in the amendment.
More like this story