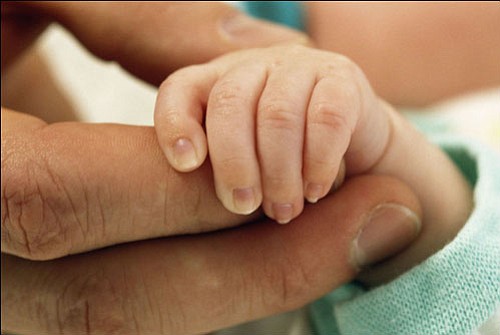 Originally Published: August 15, 2008 6 a.m.
KINGMAN - A Kingman family welcomed conjoined twin babies on Wednesday at Banner Good Samaritan Medical Center in Phoenix.
A perinatal team delivered the babies of Ashley Frank and Johnny Mendoza by Caesarian section at 10:38 a.m. after a 32-week and four-day pregnancy. The Mendoza twins are joined at the abdomen, from the diaphragm to the pubic area, a news release stated.
They have all of their own limbs and organs, but share a liver.
The parents had learned of the twins during a scheduled ultrasound in May. The twins are the third and fourth children for Frank, who has two older daughters, Manuela, 2, and Adianna, 12 months.
After their birth, the twins were transferred to the Newborn Intensive Care Unit at Phoenix Children's Hospital located inside Banner Good Samaritan.
The decision to deliver the twins came after a recent ultrasound found a decrease in the amniotic fluid surrounding the infants, said fetal ultrasound specialist Dr. William Clewell.
"A few weeks ago, everything was looking fine for the twins," Clewell said.
"Her most recent scan, though, revealed a near-complete absence of amniotic fluid and an enlarged bladder.
"That told us that the babies were developing a urinary tract obstruction and the blockage was putting both fetuses in danger," Clewell said. "Since they were at 32 weeks gestation, they are of an age where they have sufficient respiratory and cardiac function to survive and grow out of the womb."
The twins are believed to be the first live conjoined twins born at Banner Good Samaritan in more than 20 years, the release stated.
The hospital was chosen to be the site of the delivery due to the state-of-the art Banner Maternal-Fetal Center and Phoenix Children's Hospital.
The twins will receive ongoing care at Phoenix Children's Hospital.
According to an article in the Arizona Republic Thursday, The gender of the children has yet to be determined because of how they are fused together, doctors said.
At some point in the next year, when they are strong enough for the lengthy procedure, the children will be separated at Phoenix Children's Hospital.
According to the American Pediatric Surgical Association, twin births occur in approximately one of every 90 births.
Conjoined twins, which are identical, occur with a frequency of approximately one in 50,000 to 100,000 live births, the release stated.