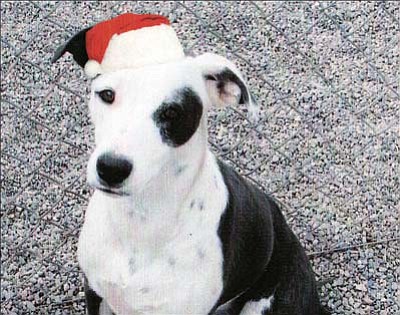 Originally Published: December 11, 2008 6 a.m.
KINGMAN - 'Tis the season for sweets, shiny objects, pretty plants and lots of food for humans and pets.
Local animal shelters are warning residents to be careful this holiday season that too much of a good thing can be bad.
With those puppy dog or kitty cat eyes, its tempting to give in and give pets that "special treat" off your plate. A number of foods, including chocolate, raisins, grapes, onions and others are poisonous to pets. Chicken, turkey and other poultry bones are brittle and can easily become lodged in a pet's throat.
Holiday plants can also pose a risk to furry friends: poinsettias; water from the Christmas Tree; lilies; amaryllis bulbs; and others can be poisonous. Alcohol can also be dangerous to pets.
Christmas trees with their bright lights and shiny ornaments can be dangerous. Pets can chew through wire lights, cut themselves on glass ornaments and swallow tinsel or fake snow - all of which can cause health problems or death.
The American Society for the Prevention of Cruelty to Animals recommends hanging the most fragile and dangerous ornaments near the top of the tree and out of the reach of curious paws. Hang shatterproof or wooden ornaments on the lower branches and tape down electrical cords.
Besides sweets and drinks, visitors may bring prescription drugs with them. Cats are curious and dogs will eat almost anything. Prescription drugs can be extremely dangerous to pets.
Visiting relatives and friends can be fun but also stressful for both you and your pet. Check with family and friends before you bring your furry friend. It might be better to board a pet or ask a neighbor to check on your pet every 24 hours.
If you do board your pet, make sure to make an appointment early. Kennels fill fast, especially around the holidays.
Local shelters and the ASPCA don't recommend giving a new pet as a present during the holidays. A new pet isn't a gift that can easily be returned. Some local shelters offer gift certificates that allow friends and family to pick out a pet that meets their needs and lifestyle.
For more information, check with your local shelter or visit www.aspca.org.