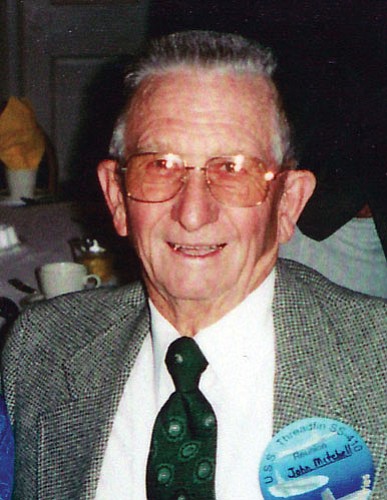 Originally Published: June 5, 2008 8:31 p.m.
John Mitchell, 86, passed away on June 1, 2008, in Kingman. He was born in Arkansas in 1922.
John enlisted in the U.S. Navy in 1942. He served on submarines during World War II and the Korea war; then transferred to aircraft carriers. He retired from the U.S. Navy in Seattle in 1967.
Following his military retirement, John worked as a correction officer for the Washington State Prison System and a title insurance company. He then became self-employed as a farmer/orchardist in the Wenatchee, Wash., area.
After retiring from the farm, he and his wife, Donna, enjoyed traveling in their RV all around the United States, as well as travels to Canada, Alaska, Mexico, through the Panama Canal, South America, Grand Cayman Islands, Hawaii, Australia, New Zealand and Fiji.
John always enjoyed fishing, boating and spending time with his family.
He is survived by his wife, Donna; two daughters, Marsha Roderick and Charlene DeHerrera; five brothers; five sisters; five grandchildren and two great-grandchildren.
A memorial service will be held at the residence in Kingman on Sat., June 7, at 1:30 p.m.
More like this story