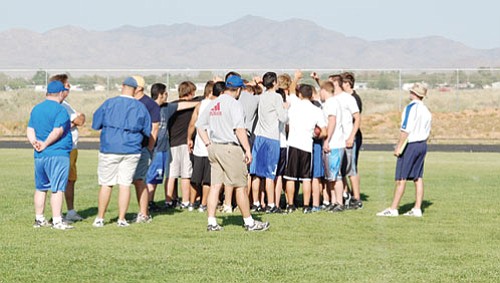 Originally Published: May 9, 2008 6 a.m.
KINGMAN - The spring football practice season has just ended (Thursday), and the Kingman Bulldogs' new head coach has already found a dilemma that his team will have to overcome. Jamie Nelson is faced with the challenge of increasing the number of players he has on the squad.
"The big concern is that there is not enough of them," Nelson said Wednesday. "Hopefully, word-of-mouth will get around. The players know that if they want to get better, they'll have to recruit other players."
The Bulldogs completed two weeks of drills to prepare for next season that is just more than three months away. "The guys coming out are working hard and having fun," the first-year head coach said. "They want to get better."
One of those players on the field was Jonathan Oakie. Oakie will be a senior when the season rolls around and is a promising star for Kingman. Oakie set the single-game rushing record with 287 yards in the Bulldogs' last game of the 2007 season. His excitement about spring ball, and about Nelson, could hardly be contained.
"It was great. This coach is something else," Oakie said. "He knows what he's doing."
Oakie said he could already tell the difference from the year's past compared to the short time he has spent with Nelson. "I want to play for him. He expects more out of us," he said. "He's going to challenge us more, and he makes it fun at the same time."
One aspect of Nelson's coaching technique is that he's not about wasting any of the short periods of time that he has to coach his players. "It's important to the young guys that they have structure and organization," Nelson said. "I want the kids leaving (spring ball) thinking that it was worth their time."
Nelson has already made plans for Bulldog Camp in June, and he has the future in mind as well. The varsity camp will be held June 22-26 from 4-8 p.m. June 27-28 are the dates set aside for fifth- through eighth-graders. According to Nelson, Tampa Bay Buccaneers assistant coach Ejiro Evero and Arizona Cardinals offensive lineman Elliott Vallejo will be making appearances.
The past two weeks of spring ball did not give Nelson the opportunity to begin the groundwork for his offensive and defensive schemes. That is why Bulldog Camp will be important. "We'll begin the installation during camp," Nelson said.
Because of Kingman's past history on the gridiron, Nelson sees that a new attitude needs to take place in the program. "If it's a seven- to 10-point game in the fourth quarter, we need to know we can get it done," he said. "We have to get to that point first."
Nelson said that his coaching staff would be working hard to be the best they can be. As far as numbers go, he recognizes it as a concern, but one that he's willing to address. "I knew it would be a challenge coming in," he said.
More like this story