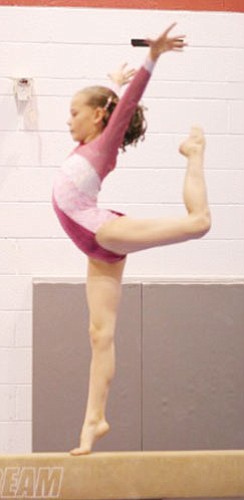 Originally Published: May 9, 2008 6 a.m.
KINGMAN - The All Starz Academy Gymnastics Team came away from the Arizona Spring State Meet with a combination of 17 gold, silver and bronze medals in addition to one qualifier for the Junior Olympic Regional Championships.
The Arizona meet was held over the weekends of March 28-30 and April 5-6 in Phoenix. The Region 1 Championships took place April 25-27 in Long Beach, Calif.
Briana Mecom, 11 years old, competed at Level 8 and was the qualifier for the region meet. Mecom placed fourth in the uneven bars with a score of 9.325 and fourth in the floor exercise with a 9.15.
Mecom said that it was a sense of relief when she found out she had advanced to the region meet.
"It felt really good," she said. "I was nervous that I wasn't going to do it."
The Region 1 Championships consisted of athletes from Arizona, California, Nevada, Utah and Hawaii. Mecom finished ninth in the uneven bars and eighth on the balance beam.
"She also hit every event and had a great all-around," coach Brandee Proffit said.
Mecom said she was happy with her performance at the regional meet. "It was my first regional, and I got to see my friends who I haven't seen in two years," she said. "I was also able to complete my first tsuk (a gymnastics move)."
Leigh Becker, 16, took first place at the state meet in the Level 7 vault with a 9.4 and third place on floor with a 9.05. Becker said that she was surprised with the first-place outcome in the vault.
"Sometimes it's my best event, and sometimes, it's not," she said. "It is my favorite event."
Becker said that she wasn't feeling very confident heading into the vault competition because of the results she posted on the balance beam. The beam was her first event at the meet, and it is usually her best. "I messed it up and thought that my chances for winning were over," she said.
Becker was a latecomer to the sport of gymnastics. She did not start until she was 11, when most girls already have accumulated years of experience. "She was amazing and kept moving up," Proffit said.
Becker also dislocated her elbow last summer but came back to win the fall state championships. "She got her cast off and went full speed ahead," said Proffit. "She's definitely one of our hardest workers."
Sydney Tribbett, 12, took first place on floor and second place on vault at Level 6. Tribbett said she was happy because of her past experiences on floor. "It was cool because I hadn't been very good in floor," Tribbett said. "It hasn't been my best event."
Tribbett said that the vault was her favorite. "It's fast, and you get it over with fast," she said. "It's hard to mess up."
Madeline Tribbett, 8, placed first in vault, second on floor and second all-around at Level 5. Elissa Himes, 9, could be All Starz's shining star of the future. Himes placed first on the uneven bars, second on the beam, third on vault and first all-around.
"We have a lot of talent coming up in the program," Proffit said. "To be real competitive, you need depth and experience. We'll have that next year."
Proffit said that there is a great disparity between the size of her academy and the gyms located in Phoenix. The Phoenix gyms have upwards of 600 gymnasts in those programs, while All Starz Academy has 20 to 30. "We've done real well despite the size difference," she said.