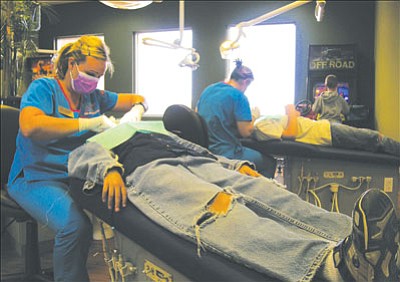 Originally Published: November 16, 2008 6 a.m.
When you first walk in the doors of Kids Little Smiles, it's hard not to notice the two-story indoor playground, the buzz of the arcade machines and the warm sound of children's laughter, and wonder whether you've come to the wrong address. After all, this is supposed to be a dentist's office, isn't it?
Well, don't fret. You've come to the right place.
Kids Little Smiles is, indeed, a dentist office at 2202 Hualapai Mountain Road, just above the offices of Mohave State Bank. And the indoor playground, the arcade machines, the preschool reading library and the free Internet access, all are intentional.
"We don't have the traditional clinical chairs or the traditional clinical offices," CEO Maggie Pozenel said. "The whole idea is to make the children feel comfortable, and that begins to build trust between the teams and the doctors."
Kids Little Smiles is designed specifically to cater to children, adolescents and teens up to age 20, with a large waiting area that features different activities for different ages.
The procedural area also offers a different take on the traditional dentist's office, with a wide-open, almost communal-type atmosphere, with unpartitioned dentist chairs, television and more arcade games for children who are waiting while a sibling is being attended.
"This just makes it a lot more comfortable, relaxing," Pozenel said. "I have yet to see a child who doesn't want to come back. They want to come back, they'll want to keep their teeth clean, and they'll want to do better for the doctor."
Dr. Charles Lucero is the Kingman native who started Kids Little Smiles in Golden Valley two years ago, alongside his longtime colleague, Dr. Michael Kort. Kort is a pediatric dentist specializing in treating infants and other young children, and it was his specialty that inspired the two to start a practice specific to youngsters.
"It was collaborative; we just sat down and thought, 'How can we make the location comfortable for the children?'" Lucero said. "It's important that we limited our practice to pediatric dentistry so we can maintain this atmosphere."
And by Lucero's account, the atmosphere has proven a resounding success, with many of their youngest clients often unwilling to leave the office after a checkup, or simply looking forward to their next one.
Since its founding, Kids Little Smiles has expanded to Lake Havasu and Bullhead City, with the Kingman branch its most recent - and final - location, opening in September.
"We wanted to be in Kingman sooner, but we couldn't find a location," Lucaro said.
Because they specialize in treating the youngest children, Kids Little Smiles receives a large number of referrals from other dentists throughout the region. Pozenel said their office offers both oral and intravenous sedation for children who have to undergo more complicated procedures, and that is often the reason why children get referred to them.
"Going from a child that's 5 to an adult that's 55 requires a different approach," she said. "There are some children - depending on their treatment, their behavior, their needs and their age - who may require sleep treatment."
Kids Little Smiles does many of its procedures in house, including root canals, x-rays and sterilizations. They also offer orthodontic services, including the Invisaline brand of nigh-invisible braces.
"Many of the dentists refer them to us for those special services," Pozenel said. "It's nice not to have that high-pressure competetiveness."
But aside from providing services, Kids Little Smiles also focuses on preventative, rather than restorative, care.
The business prides itself on its new-patient program, taking extra time to discuss procedures and policies with the parents of new patients, and introducing patients to the doctors and hygienists they will be seeing for years to come.
"Because parents bring them in small, we're able to put them on a preventative dental program that will ensure they have a healthy smile," Lucero said. "The younger a child can get into the dentist's, the longer they're going to have optimum dental health."
The "Cavity Free" parties give the children that extra incentive to keep their teeth clean, as does the Kids Cash, which is given out for anything from good behavior to a positive report card.
The Kingman office eventually will have a display case filled with prizes redeemable for Kids Cash, and much of it is a far cry from the cheap plastic you might have gotten from your dentist's toy chest decades ago.
Children who stock up their Kids Cash eventually can claim big-ticket items, including Nintendo DSes, LeapFrog interactive toys, video games, school supplies, and - as soon as it's possible - movie tickets.
"It's to give them a positive experience and make them feel comfortable right when they step into the office," Lucero said. "We try to make it not just focused on dentistry."
For more information or to schedule an appointment, call (928) 718-7645 or visit www.kidslittlesmiles.com.