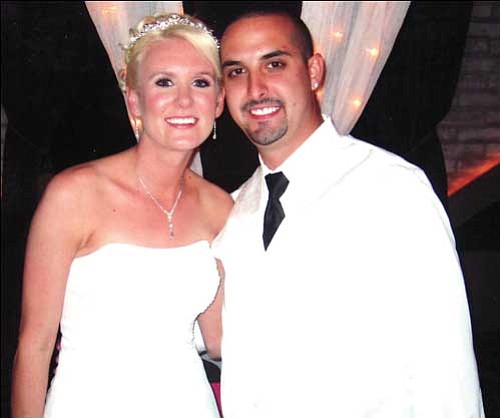 Originally Published: April 5, 2009 6 a.m.
Christopher John Bankemper and Jonelle Marlee Winokur were united in marriage on Friday, March 13, 2009, at Reflections of the Buttes in Tucson.
A reception followed the outside wedding with beautiful colors of watermelon, black and silver. Two hundred family members and friends participated in the event.
The bride's parents are Greg and Karon Winokur of Kingman. The groom's parents are John and Nori Bankemper of Tucson.
The maid of honor was Katy Chapman of Tucson. Bridesmaids included Sarah Billington of Texas, the bride's cousin; Christina Bankemper of Tucson, the groom's sister; Heather Beavers of Texas; Allison Kinney of Kingman; and Jessica Hatcher of Tucson. The best man was Jason Greenawalt of Tucson. The groomsmen from Tucson included Mark Lovstrom; Scott Geare; Paul Duling; Cory Bankemper, the groom's cousin; and Jeff Kendall. The flower girl was Alauna Ballard of Kingman. Ring bearers were Sean Bankemper of Tucson, cousin of the groom; and Simon Winokur of Kingman, brother of the bride. The Rev. Gus Bess was the officiant.
A weeklong honeymoon is planned in Hawaii this summer, after the bride completes a Sociology degree in May. The couple will continue to reside in Tucson.