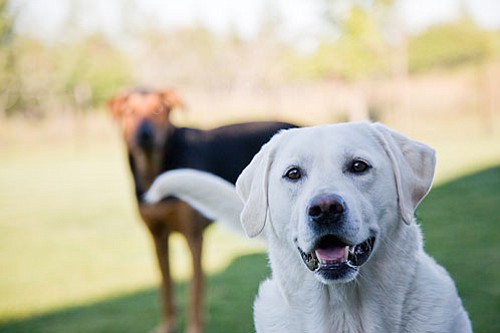 Originally Published: April 8, 2009 6 a.m.
KINGMAN - The Board of Supervisors had a number of items from Golden Valley on its agenda Monday.
A couple from the Golden Valley area asked the Board to approve a private kennel zoning permit for their home near Oatman Highway.
Richard O'Connor said he and his wife had worked hard and are continuing to work on cleaning up several zoning violations on their property. The O'Connors will have to get an extra 0.15 of an acre in order to meet the zoning permit requirements. The Board approved a one-year extension of the zoning permit.
Another Golden Valley couple was not so lucky with their request for a commercial dog kennel permit.
The Board upheld the denial of a commercial dog kennel permit request from Shelly Barnes and her husband. The couple had originally applied for a permit for an auxiliary building. The couple breeds show dogs and had planned at some point to start a boarding kennel and offer their dogs for breeding.
The couple was notified that because they had more than four dogs on the property, they would need a kennel permit, and if they planned to sell puppies, they would need a commercial kennel permit.
Also, if they planned to use the building for the kennel, they would have to build it to meet specific health codes.
A neighbor, Phil Magdelin, said he had no problem with the Barnes having a kennel and had been helping them with the project.
Karin Smith and other neighbors had different views. Smith showed the Board a map of properties within 300 feet of the Barnes' property. Five out of the six property owners within that area were against the kennel permit, she said.
At least 70 property owners in a half-mile radius of the Barnes were also against the kennel, she said. The Board denied the request.
The Board also approved a minor amendment and a rezoning request for Grand Canyon West Ranch. The owner of the ranch requested a minor amendment to the Mohave County General Plan and a rezone of the more than 106,000-acre ranch from agricultural/ residential to commercial recreational.
According to county documents, the ranch is looking to add 40 more cabins, a 15,000- to 20,000-square-foot lodge with dining facilities, additional horse and hiking trails, four employee bunk houses, possibly a Western museum and a small storefront.
The ranch currently has 10 cabins and the old ranch house for a dinning facility. It offers numerous packages for overnight stays and tourist activities, such as horseback riding, wagon rides, a night in a teepee and a chance to see what a working cattle ranch looks like.
More like this story