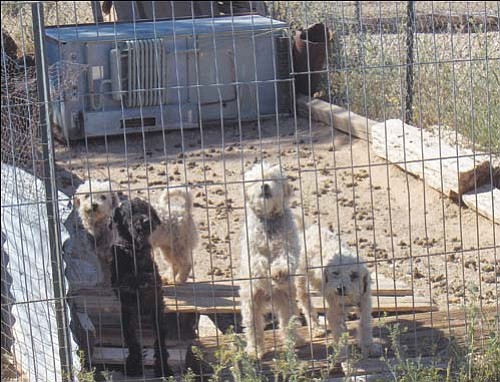 Originally Published: April 14, 2009 6 a.m.
KINGMAN - Five more dogs have been taken in connection with the investigation of the K&S Puppy Ranch in Golden Valley.
Records seized during a search of the K&S Puppy Ranch on March 26 led Mohave County Sheriff's deputies, Animal Control officers and Environmental Health personnel to a home on Desert View Trail. The owner of the home was contacted on Thursday and found to be operating a kennel without a permit.
The owner claimed that five poodles belonged to one of the owners of the K&S Puppy Ranch and a number of remaining dogs belonged to her.
Animal Control officers took the five poodles, which needed medical attention, to a local veterinarian. The homeowner was warned to get a kennel permit in order to comply with Environmental Health and Planning and Zoning laws. The owner then voluntarily surrendered some of her own dogs.
The Mohave County Sheriff's Office started investigating the ranch in March after local veterinarian, Darla Wright, and a veterinarian clinic out of Las Vegas reported that their signatures and letterhead were allegedly used to forge health certificates for puppies sold by K&S.
Three search warrants were executed simultaneously on March 26 at the K&S Puppy Ranch and two residences, one in the 4100 block of Highway 68 and the other in the 3500 block of Maverick Road, in Golden Valley. Deputies found 32 dogs and five puppies at one residence and 17 dogs at another residence.
Planning and Zoning and Environmental Health are continuing to investigate.