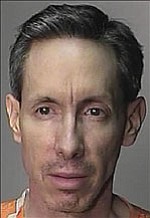 Originally Published: January 22, 2009 6 a.m.
KINGMAN - Attorneys for Warren Jeffs are accusing Texas and Arizona law enforcement authorities of doing a Texas Two Step.
Richard Wright and Michael Piccarreta, Jeffs' attorneys, filed a response on Jan. 9 asking the Mohave County Superior Court deny a request by the Mohave County Attorney's Office to hold a hearing on whether Jeffs is entitled to have a hearing on a motion to suppress evidence.
The Mohave County Attorney's Office stated in its motion that Jeffs' attorneys have not shown specific evidence to support their claim that the search of the Yearning for Zion Ranch in Eldorado, Texas, was unconstitutional and any evidence from the raid must be suppressed.
The YFZ Ranch is part of the Fundamentalist Church of Latter Day Saints. It was raided in April after Texas law enforcement received a phone call from a teen alleging to be pregnant and having been abused by her much older husband.
Texas law enforcement removed more than 400 children from the ranch. The phone call turned out to be hoax.
Jeffs' attorneys argued in their response that Texas and Arizona authorities are attempting to do a Texas Two Step. The Texas and Arizona authorities are asking for specific information showing that the Texas search may be unconstitutional, but at the same time the two states may have impeded Jeffs' attorneys' search for more information during the interview of three Texas law enforcement officers.
In December, authorities from Texas and Arizona refused to allow the three Texas law enforcement officers -Schleicher County Sheriff David Doran, Deputy John Connor and Texas Ranger Brooks Long - to answer questions about why officers did not investigate whether the phone call was a possible hoax, Wright and Piccarreta stated in their response.
The two have argued in previous motions that Texas law enforcement officers acted recklessly by obtaining the search warrant for the ranch, even though the officers allegedly knew, or could have easily found out, that the phone call, which started the raid, was from an out-of-state phone number.
They have also argued that the search was unconstitutionally broad, that Texas law enforcement exceeded the scope of the warrant by collecting DNA samples when that request had been struck from the warrant, and that Arizona law enforcement officers were tainted when they were exposed to the evidence from the Texas raid.
The three Texas officers may have to testify in court in Arizona if Arizona wants to uphold the constitutionality of the search, Wright and Piccarreta stated.
Jeffs is currently being held in the Mohave County Jail on charges of four counts of being an accomplice to sexual conduct with a minor. He is also charged in Texas with two counts of first-degree felony aggravated sexual assault on a child.
More like this story