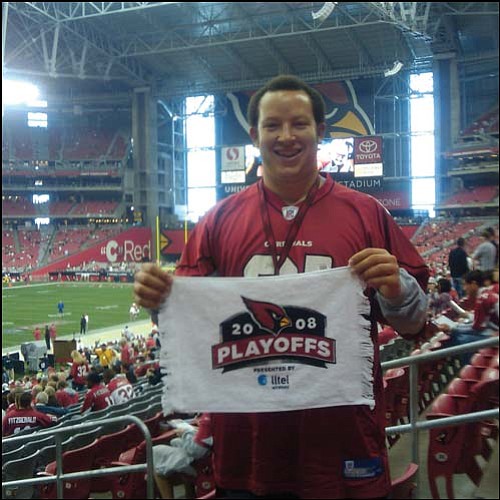 Originally Published: January 30, 2009 6 a.m.
For the second straight year, I'll be heading to the Super Bowl.
Of course, this will be the first year I'll actually get inside the stadium. I'll be cheering with my father, John Royster, for the Arizona Cardinals to cruise to victory against the favored Pittsburgh Steelers.
Fortunately for me, my father was drawn to purchase tickets for Super Bowl XLIII in Tampa, Fla. But, Dad is the lucky one this year.
What started out as an opportunity to watch professional football live with a buddy in 1990 for my dad has transformed into a devotion to a team that has been the butt of NFL jokes for decades.
Since 1990, my father has been a season ticket-holder. He has suffered through the bad seasons ... and well, even more bad seasons.
The Cardinals have been 110-194 since my Dad purchased tickets and 122-214 since their arrival in Arizona.
Disgruntled first-round draft picks like Simeon Rice have come and gone, while others, like Andre Wadsworth, haven't panned out. Throughout it all, Dad has been there.
Like everyone else across the state during the 1998 season, my father witnessed the Cardiac Cards with excitement I'd rarely seen out of him.
A team built on comebacks, though, couldn't keep the wins going, and soon they were mere spectators like my Dad.
The feat of dispatching the dreaded Dallas Cowboys in the Wild Card round must have taken a lot out of Big Red, as they couldn't muster a winning record for nearly a decade.
All those seasons of losing also took a lot out of Dad, as they would any true fan.
Still, every year when the schedules were released, he penciled in enough wins for the Cardinals to make the playoffs. Once they were mathematically eliminated from the playoffs, he would curse the team for not living up to expectations. But this year, he's found salvation. For the first time in a decade, the Cardinals have a winning record! They went to the playoffs! They even hosted ... gasp ... two playoff games.
I have sat by my father's side during those years for many of the games on the hot bleachers at Sun Devil Stadium in Tempe to air-conditioned individual seats at the University of Phoenix Stadium in Glendale. I can tell you, Dad wasn't the only one savoring the turn in favor for the Cardinals, though those diehard fans at every game themselves couldn't fill half the stadium during their losing years at Sun Devil Stadium.
Fair weather fans and bandwagoners are of no concern to Dad. They're just more people to high-five when Larry Fitzgerald skies over defenders for spectacular catches of Kurt Warner passes.
The amount being spent so far on our trip to the game could've bought one ridiculously large high-definition TV and accompanying Super Bowl party, but for Dad, there's was no way he was going to miss watching this game in person.