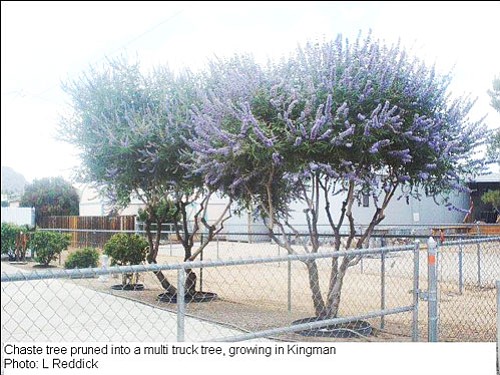 Originally Published: July 19, 2009 6 a.m.
KINGMAN - The Chaste tree is a widely adaptable shrub or small tree with single or multiple trunks, hosting a wide-spreading crown.
It is a native of southern Europe but has naturalized in warm areas of the United States. Without irrigation, it normally remains a shrub, growing no more than 6 feet high. With moderate amounts of water, it grows quickly to 15 to 25 feet high with an equal canopy. It seems to need heat to develop fully and bloom well; it stays smaller and blooms less at cooler elevations.
Aromatic leaves are divided fanwise into five to seven narrow, 2- to 6-inch long leaflets, grayish green above and gray beneath. It blooms during summer months, occasionally into fall: with small, fragrant lavender-blue flowers held in 6- to 12-inch spikes at ends of branches and leaf joints. The trunk is often picturesque with gray, stringy bark. There are two other cultivars: "Rosea" has pinkish flowers, "Alba" has white flowers.
This desert beauty has multiple uses. It's good as a border shrub using little to no water (once established), a great patio or shade tree, and in the garden setting can become an attractive center of interest.
It tolerates a wide range of soil conditions; it will handle part, full or reflective sun; and it's cold hardy but revels in the heat. Does that sound like Kingman?
The Chaste tree can be planted at any time from a container or bare-root planting during the winter. To enjoy it as a shrub, no pruning will be necessary. But, for the purpose of a deciduous tree, light trimming during the dormant season will assist in forming the shape of the tree you desire.
But do remember it will be a multi-trunked tree, although a single trunk is possible. It can get wood rot. Wood rot is a fungi that develops in the wood, mainly caused from over watering, and/or prolonged moisture. So water at least eight inches away from the trunk, out to the drip line. Water deeply and slowly.
Drought-resistant plants are often neglected when they are first planted because of their reputation for toughness. Treat all plants with the same care when newly planted.
Summer plantings of container plants should be watered once a week for the first six to eight weeks. As the plant matures, you will be able to reduce the irrigation to once or twice a month during the hot periods, and even less frequent during cooler periods.
The exact amount of water is hard to judge due to varying soil conditions and micro-climates. So get to know your plants and a watering schedule will emerge.
Try to water plants just before they begin to show signs of stress. Look for slightly wilted foliage, or loss in luster or color change that is darker, grayer or bluer than normal.
Other signs are curling or falling leaves. If leaf edges turn dry or leaves yellow, this indicates a more advanced state of drought. Maintain an irrigation schedule for at least the first year or two until the plant is fully established, and ALWAYS water deeply.