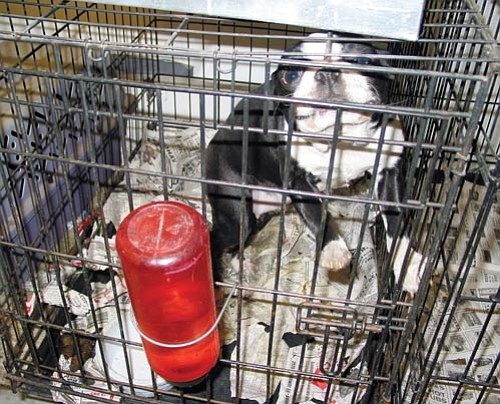 Originally Published: March 29, 2009 6 a.m.
KINGMAN - What started with a sick puppy in California ended up with three search warrants and misdemeanor charges being served on the K&S Puppy Ranch in Golden Valley Thursday.
The Mohave County Sheriff's Office started investigating the ranch last week after local veterinarian Darla Wright and a veterinarian clinic out of Las Vegas reported that their signatures and letterhead were allegedly used to forge health certificates for puppies sold by K&S.
Wright was contacted by a California veterinarian who was taking care of a sick puppy purchased from K&S by a California resident. K&S had allegedly given the California resident papers certifying the health of the puppy with Wright's signature and office name on them. A quick review of her records, showed that Wright had never seen the puppy.
The Mohave County Sheriff's Office was contacted and three search warrants were executed simultaneously at the K&S Puppy Ranch and two residences, one in the 4100 block of Highway 68 and the other in the 3500 block of Maverick Road, in Golden Valley on Thursday morning.
Deputies found 32 dogs and five puppies at one residence and 17 dogs at another residence, some living in dark, damp, dirty and tight conditions. Some of the dogs were found in kennels that were no larger than two feet high by two feet across and two feet in length.
The owners of the puppy ranch were given 24 hours to seek veterinarian services for two dogs that needed medical attention. Misdemeanor citations were issued for animal cruelty, no dog licenses and having more than four dogs at the residences without a commercial kennel license.
The K&S Puppy Ranch business does have a valid commercial kennel permit.
The Mohave County Animal Control, Planning and Zoning and Environmental Health departments are continuing to investigate the situation at the puppy ranch.
Other charges may be filed against the business in the future.