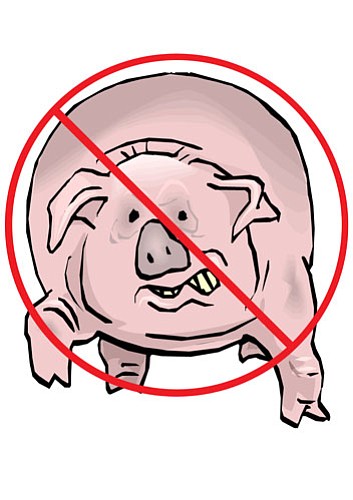 Originally Published: May 6, 2009 6 a.m.
KINGMAN - Though it continues to spread throughout the country and the world, the H1N1 flu virus, also known as the swine flu, has yet to reach Mohave County, according to the county Department of Public Health.
The department's assistant director, Jennifer McNally, said Tuesday that 24 samples of suspected swine flu have been sent to the state lab for testing over the past week, and while five remain to be tested, the remaining 19 cases tested negative for the virus.
"As they're collected we were sending them in. The ones that were tested by the state lab that were sent in came back negative," McNally said. She added that several of the samples have tested positive for influenza, but it appears to be the regular variety of seasonal flu, and not the new strain.
McNally said the county would receive results on the final five samples as early as this Thursday, but she noted that if the state lab is unable to definitively type them, the samples would have to be sent to the Centers for Disease Control and Prevention for more extensive testing, which could take longer to produce results.
In the meantime, the department has published a list of steps local employers can take to reduce the risk of exposure to both swine and seasonal flu. For those businesses whose employees are not required to have frequent contact with the public, the department is advising them to follow general hygiene and social distancing practices, as well as being aware of where hand hygiene supplies are located, and what options are available to them for working from home.
For higher-risk employers with greater public contact, such as high-volume retail stores, the department is advising managers to instruct employees to avoid close contact with other employees and the general public wherever possible, and to communicate the availability of medical screening and other employee health resources, such as an on-site nurse or an employee wellness program.
Such employers are also being advised to work with their employees to ensure they understand the current office leave policies, and to work with customers to keep them informed of what constitutes flu-like symptoms.
"I think what's going on in Maricopa County and what we're seeing nationwide is that (swine flu) is acting similar to the flu that we see every flu season," McNally said. "It's not a really severe strain that's causing a lot of really severe illness in people, so I think that is helping to calm some people and allay some fears."
McNally did note, however, that the United States has seen a steady increase in the number of reported cases. According to Associated Press reports, more than 500 cases of swine flu have been confirmed in 39 states, resulting in two deaths, both occurring in Texas.
The first death happened last week, when a 23-month-old Mexican boy visiting relatives succumbed to the virus in a Houston hospital. The second death was first reported this Tuesday, when Texas state health officials confirmed that a woman in her 30s living along the U.S.-Mexico border was the first American resident to die from the disease. Officials noted that both individuals had been suffering from other underlying health issues at the time they contracted the flu.