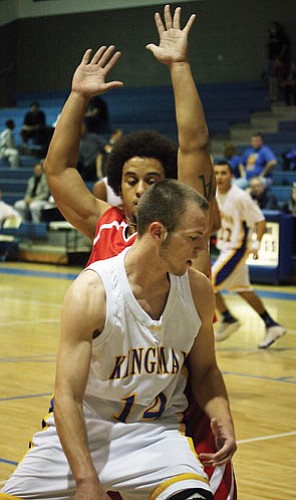 Originally Published: May 8, 2009 6 a.m.
KINGMAN - Tyler Huffer isn't one to just dream about his future. When the Kingman High basketball and baseball standout graduates May 28, he'll already be able to look back and see his hard work toward achieving his goal has provided him with the first stepping stones down that path.
Huffer recently signed with Arizona Western College in Yuma to join the Matadors' pitching staff. The signing came with what he called close to a full ride that will pay for most of his education.
There has been talk of Huffer being selected in this year's Major League Baseball amateur draft, and though his eyes lit up when he heard that, Huffer exhibited the maturity to acknowledge now may not be the best time to join the minor leagues.
"That has always been my dream," Huffer said. "But I want to get my education first before I get into all that added stuff."
Huffer said he didn't think he was good enough - yet - to jump on the road to the majors, and playing college ball was the best route for him.
"I haven't had any real pitching coaching my whole life," Huffer said. "I need to grow and develop more before I'm major league material."
Making the decision
Baseball wasn't always Huffer's dream. As he was growing up, he said he was torn between basketball and the sport that's helping him get his education. That dilemma ended for Huffer when he was 12 and his Little League All-Star team reached the state tournament.
"That's when I knew I wanted to go for baseball," Huffer said. "I decided then it was what I wanted to do."
Sports and education go hand in hand in the Huffer household. Tyler's father, Todd Huffer, played basketball at Central Arizona College and transferred to California-Chico. His oldest sister, Ashley, played for York (Neb.) College, and he said his middle sister Tabitha could have played if she went for it.
"And my youngest sister Gabby has all the talent in the world," he said of the Kingman Middle School student. "I was raised to get an education, do good in school and then I would get all the support in the world to do what I wanted to do. From there, I've had the desire to be better than anyone else."
Defeating trouble
Huffer's four years at KHS weren't perfect. He admittedly had some behavior issues, which followed him into his senior year. Huffer is an opinionated young man and seems always ready to let you know what it is. However, he was able to put his troubles behind him as he strived to keep playing baseball.
One of Huffer's opinions is that KHS will miss recently-resigned football coach Jamie Nelson. Though he didn't play football his senior year - he said he lost interest in the sport - he had Nelson as his weights-training teacher.
"I really hate to see him leave," Huffer said. "He would have helped this place a lot."
Nelson was one of those who heard Huffer could be troublesome.
"When he came to my class, he had some bad history," Nelson said. "But he's a very mature person who has a good grasp of what a program needs. He's a hard worker and worked his tail off in class."
KHS baseball coach Rick Olivas, who just completed his first season leading the Bulldogs, had heard the same things Nelson had about Huffer.
"I heard he was uncoachable, but he tried everything I taught him," Olivas said. "He'll give you everything he has and he's willing to learn and is very coachable."
Huffer knew entering his final year at KHS he had to create some new history.
"Everyone grows up and develops as who they are in high school," Huffer said. "I've had my fair share of getting into trouble, but I found out what I wanted to do and had fun. That's what high school is all about, I think."
The leader emerges
Whether it was in Huffer's weights class, on the basketball court or the baseball diamond, he led by example. Huffer is aware that grinding through the workload is what it takes to make dreams come true.
Nelson, Olivas and KHS basketball coach Dave Vance had very similar but different ways of pointing to the maturity level Huffer reached to become a leader for the Bulldogs.
"He expects good behavior from the other kids," Nelson said. "He's a positive influence and he and a group of baseball guys - John Scott, Cory Litzinger and Nick Olivas - came in and got their work done."
Olivas said Huffer's presence on the baseball squad was a rare find.
Providing a push
"I got a lot of leadership from him," Olivas said. "When kids got out of line, he was the first to get on them and get them focused on what we were trying to do. It's hard to find kids that will do that."
When the basketball team needed a push during its season, Huffer was there to provide it for the Bulldogs.
"This year, especially practice-wise, he was always trying to get everyone going," Vance said. "The kids never gave up and he was a big part of that. I never felt the kids were ready to be done with the season, and he was a big reason."
Being a rare commodity has been parlayed into something that rarely ever happens at Arizona Western, located in Yuma. The Matadors' baseball coach, John Stratton, put Huffer on scholarship sight unseen, though Stratton did say he saw Huffer play basketball.
"He's one of the few we actually didn't see," Stratton said. "That doesn't happen too often. We explained to him and his dad we don't think he's a finished product. We make a living on guys who have to go through the process."
Stratton said during Huffer's first fall at Arizona Western, the Matadors will focus on adding another pitch to Huffer's repertoire.
"We're going to get him confident in throwing a changeup," Stratton said. "In the fall, we can really work on things without him being over-pitched."
The Matadors are virtually guaranteed to have a goal-driven and hard-working young man on their team for the next two years.
"After Western, I plan on transferring to a four-year school, unless I get drafted high," Huffer said. "Then I'll give it a try. I look forward to playing in college because of the quality players who will make me better."