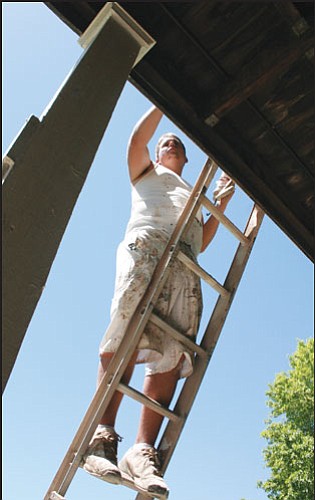 Originally Published: May 10, 2009 6 a.m.
KINGMAN - One of Kingman's most historic homes will be restored to its former glory over the next several weeks.
The Bonelli House has stood at the corner of Fifth Street and Spring Street in downtown Kingman for nearly nine and a half decades. Built by George and Effie Bonelli in 1915 after their first house was destroyed by a freak electrical fire, the Bonelli House has long served as a beautiful example of early twentieth century neocolonial architecture and a prime tourist attraction in Kingman.
But over the last several years, the home's current caretaker, Cathy Kreis, began to notice increasingly obvious signs of water damage, peeling paint and other indications that 90-plus years of exposure to the elements were beginning to seriously wear on the house.
"I'm here all the time, and I see this house getting worse and worse," Kreis said. "There was water damage upstairs that I was really concerned with - that was my first clue that we were going to be having problems."
While the city of Kingman has owned the Bonelli House since the 1970s, the Mohave County Historical Society actually administers the home. But Kreis noted that, with the economy in shambles, neither entity had the funds to conduct any serious repairs.
As a last resort, in the fall of 2008, Kreis decided to reach out to the Bonelli family itself, submitting a list of all the problems she'd noticed. To her surprise, she got a phone call back from Mrs. Benjamin Bonelli, asking how a monetary donation might be used to renovate the aging structure. Satisfied with the Kreis's answer, the donation was made toward the end of 2008, and months later, Glen Conley of Sanderson's Painting paid a visit to the house to survey the damage. "I talked to Sherwin Williams, whom I deal a lot with, and a couple of local contractors - Lonnie Henderson from Lonnie's Lath & Plaster and Mark Dryden of First Class Finish, and we had these guys come over and take a look," Conley said.
But rather than simply address Kreis's list, Conley and company took it upon themselves to go over the entire house, using their contractor's eyes to spot problems even Kreis hadn't noticed, such as the shoddy patchwork repainting that had been done decades earlier as well as the sections of wooden beams that had been replaced, but failed to match the original style of the home. "There's a lot of patchwork that's been done on this place," Conley said.
The contractors estimated that the total cost of labor and materials to properly repair the house would run about $17,000 - far more than even the generous donation made by the Bonelli family. But Conley and company, recognizing the historic significance of the house, decided to go ahead and do the job anyway. "All the contractors have donated to make this happen," he said. "We've donated a lot of our labor, plus materials to get this done."
They've also donated the years of expertise necessary to restore the home to its original condition, which will require the contractors to combine old-school painting and staining techniques with long-lasting modern day materials.
"We still want to maintain the look of the house by applicating with brush, without any spray equipment," Conley said. "Restoration is really what we're trying to do - bring it back to the way it originally was, but using the proper products to maintain it to last another 90 years, hopefully."
The restoration contract includes a two-year minor maintenance clause, so after the work is finished in about a month, Conley will make routine visits back to the house to check for new cracks or other problems.
That enthusiasm hasn't been lost on Kreis, who said she can see how Conley's eyes light up when he talks about the project. "He's as excited about this as I am about him doing it," she said. "You can imagine how thrilled I am this is going to get taken care of."
The restoration also earned praise from Mayor John Salem, who paid a visit to the Bonelli House Wednesday morning to meet Conley and company in person.
"I'm just really pleased to see local contractor Sanderson Painting got this, and because it was funded almost entirely by donations, it really shows the community support for the Bonelli House," Salem said. "I'm really proud of this place, and I can't wait to see it when it's finished."