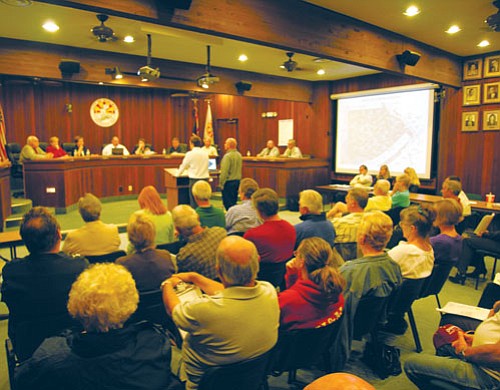 Originally Published: November 9, 2009 6 a.m.
KINGMAN - City residents won out over a local developer last Monday after the City Council voted unanimously to deny an abandonment and subsequent rezone for a planned development district that would have included 155 attached homes adjacent to an existing neighborhood of upscale, detached residences.
The Council Chambers were packed with residents of the Granite Bluffs subdivision, who turned out en masse to protest Rolek Gore Development's application to abandon its existing subdivision plat at the southwest corner of Mission Boulevard and Granite Bluffs Drive and have it rezoned to allow for a higher-density attached housing development.
Mayor John Salem noted that, just prior to the meeting, the developer had approached the city asking to table the rezone and abandonment indefinitely, in hopes they could spend more time hammering out an agreement with the neighbors in Granite Bluffs. Councilman Kerry Deering made a motion to approve the tabling and Robin Gordon seconded, but before holding a vote, Council decided to first hold the scheduled public hearing on the matter.
Residents' main complaints were that Rolek Gore's development, if approved, would have a deleterious effect on their housing values because they would attract a transient population, as well as a substantial amount of new traffic. One resident, Realtor Sue Smith, argued that apartments in the city already had a vacancy rate of 30 percent, adding that several local condominium developments similar to Rolek Gore's had already gone under over the past year.
"There is an abundance of rentals available in Kingman right now, and a lot of renters are buying homes," Smith said. "There is not a need in Kingman for either additional apartments or condominiums. For zoning to be changed, there has to be a real need, and there isn't a need at this time."
Rolek Gore had not done its due diligence in communicating openly with residents and taking their concerns into consideration, residents also contended. One resident, John Marsley, argued that the meetings neighbors had held with Rolek Gore amounted to little more than the developer dictating its terms to them.
JP complains
Kingman Justice of the Peace Rick Lambert said he had asked his real estate agent about the development shortly before moving into his house in Granite Bluffs, and had been told it would be a 27-lot subdivision, which he assumed would be built similar to his neighborhood. Over the past year, however, he and his neighbors have had to contend with first an unspecified commercial development and now a high-density townhouse complex proposed for the area.
"It's hard to take, and we've gone to the Planning and Zoning meetings, we've come together as a neighborhood to try to say, 'Please don't let them just build something in there with 300 apartment houses or whatever,'" Lambert said. "I think a lot of the residents feel like they've been taken advantage of. It doesn't feel like the developer's really worked with us."
In defending their development, Alex Rolek and Jerry Gore argued that they had already made an effort to accommodate their neighbors by decreasing the number of attached homes from the maximum 320 to just 155 and by designating 10.34 acres of their property for open space preservation. Rolek added that he planned to hold another meeting with Granite Bluffs residents' at 2 p.m. Nov. 18 in the Development Services building.
But that is where the developers' arguments began falling apart. Vice Mayor Janet Watson noted that 2 p.m. on a Wednesday was not a particularly convenient time for most working people to attend a meeting, and it demonstrated a lack of good faith on Rolek Gore's part. Alex Rolek explained that he was trying to take the schedules of Council members and city staff into consideration as well, to which several on Council responded that they frequently attended town halls and other such meetings in the evening.
"We've always done it before," said Councilman Keith Walker.
Watson further asked for a show of hands to see how many Granite Bluffs residents Rolek and Gore had attempted to contact to inform them of the meeting time. One resident indicated she had received a phone call, while three others had received e-mails. Several dozen more indicated that they had received no information at all.