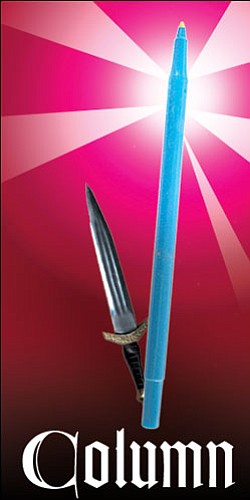 Originally Published: April 8, 2010 6:01 a.m.
MedCath Corporation announced March 1 that we have engaged advisors to explore the sale of our company or the sale of our interests in assets.
We do not know the path to be decided upon by our board of directors since our independent Strategic Options Committee has yet to vet the alternatives that will follow an extensive review of options.
It is logical that there have been questions about what, if any, impact any change with MedCath's ownership might mean to Hualapai Mountain Medical Center and the community. I believe it is because of the newness and the anticipation of great things continuing at HMMC that there has been some anxiety about what the MedCath strategy might mean. Perhaps I can put to rest any unnecessary apprehension.
Simply put: Hualapai Mountain Medical Center is a community treasure that will grow with, and stimulate growth for, Kingman and surrounding communities for decades to come! We very much appreciate the warm reception to our new center. The attendance of nearly 1,000 folks who came to the open house a week ago demonstrates the kind of support we so much appreciate. Just within the last week, HMMC has seen a new high in daily in-patient census and has seen record highs in surgical procedures and heart catheterization procedures.
Our emergency room has seen tremendous success as patients have found quick treatment, and our 15-minute to-be-seen assurance greatly enhances the ER experience. These accomplishments are because the medical staff and the community have been very receptive to HMMC and found that the service and quality set a new standard for the community. Regardless whether we sell our interest in HMMC or sell all of MedCath, HMMC will continue with the same physicians, including those who founded and developed the hospital with us, and the employee team that is providing the excellent care and service our patients have experienced.
HMMC is operated locally. We do not operate hospitals out of Charlotte. We provide support, but that support will continue to be available whether through MedCath or through another company that takes our place and provides a continued commitment to the community through HMMC's growth. MedCath's motivation for exploring strategic options is solely for the purpose of enhancing shareholder value. As a publicly-traded company, we have a duty when we believe circumstances do not properly recognize the inherent value of our company in the public markets.
Following an extensive review by an independent healthcare consulting firm, our board of directors concluded that "unlocking" shareholder value is best done through realizing the inherent value we have built in our brand nationally and locally. This has been primarily through our legacy heart hospitals in seven states. Contrary to rumors that have floated in the community, there is NOT a distress sale or lack of our support for HMMC.
HMMC represents what was our vision and strategy to migrate from our dependency on heart hospital growth into other markets. The hospital was built with cash from internal sources. HMMC has no debt for its facilities to anyone other than MedCath. The Kingman community represents the population, service demand and competitive need for another hospital we have sought in new markets. Everything we found in planning HMMC continues to represent our underlying belief in the future for the success of HMMC.
When we first announced HMMC's development, we offered several goals:
• We would use our experience in working with physician joint ventures to include community physicians in shared governance and more influence in operations than they have elsewhere. Result: Today, our physicians represent 50 percent of our HMMC board of directors and have developed all the clinical policies that are in place and share all decision making at the board level. We value physicians' input and opinions in ways that are foreign in most hospitals. Our confidence in the medical leadership has proved valuable in the development of HMMC.
• We would invest over $70 million dollars and employ hundreds as the hospital matures. Result: We have invested approximately $75 million in the community and employ more than 200, with this number growing as services continue to grow. The physicians and MedCath have invested significantly to bring this hospital to fruition.
• We would change the face of healthcare in the community as we have in other communities where we have built hospitals. We have found that when MedCath and physicians build new facilities, competing hospitals invest in new equipment and facilities and have to teach their employees to improve customer service and physician relations. Result: Few would deny that since we announced the development of HMMC, the community has seen the same new investment and training employees in order to attempt to compete with HMMC. Our expectations is that HMMC will continue to be the leader in setting the standard for excellence in facilities, service and quality for which it is known in the few months since its opening. Before our hospital was complete, we made a positive impact on hospital care in the community, and HMMC will continue to do so.
• We said we would involve the community. Result: We have a large Community Advisory Board comprised of community leaders who will be active in guiding the hospital through its continued growth and support for the community.
We met those goals! And, yes, in a short time, HMMC has had a big impact on the community and it will continue to do so. We have built 15 hospitals and have sold our interests in one-third of them - all heart hospitals - in individual transactions over the past few years. We take pride in having departed our communities better equipped and better served than we found them.
As we contemplate the transitions for MedCath, we celebrate the successful venture we have in HMMC and congratulate the community, and our physician partners, for the courage and foresight to support the development of this community treasure.
Great communities are built around new investments in hospital infrastructure. In the years to come, that will become more evident in Kingman and the surrounding communities.